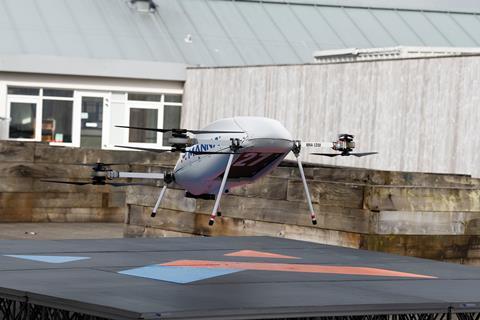 The operator behind Tesco's two-minute drone grocery delivery service in a small Irish town has revealed its intention to expand the service into a much larger town.
Drone start-up Manna said expansion into a location with a population of around 40,000 people would be coming "soon". The move follows Manna securing $25M investment in a Series A funding round in April.
Tesco has – via the Manna app – been offering the 10,000 residents of Oranmore, Galway living within 2km of its superstore, small basket delivery by drone as part of trial which started in September last year. Combined items must not be more than 2kg in weight and must "fit inside a shoebox".
Items ordered on the app are picked by Tesco store staff, then passed to a Manna operator, packed in a biodegradable bag and placed inside the drone. The drone ascends to 60 metres and flies to the customer's home. Once overhead, the drone descends to around 15 metres, and winches down the bag on a string into the customer's front or back garden.
As of this month more than 9,000 Tesco products have been delivered in this way.
Manna nor Tesco would confirm the supermarket would carry its delivery partnership over to the new location, but Manna said some existing partners would feature.
The start-up's app also features dedicated Coca-Cola and Ben & Jerry's stores offering small ranges of products. Local restaurants and coffee shops also feature, as well as an Oranmore pharmacy.
Last year Manna partnered with Just Eat on a separate trial which saw a selection of takeaways be delivered by drone at University College Dublin.
According to Manna, more than 35% of homes in the Oranmore delivery area use the service on a regular basis. The company's drones make an average 100 deliveries per day.
According to Manna a single employee operating multiple drones is able to fulfill nearly 20 deliveries per hour. "The service is quieter, greener, faster, respects privacy and is safer than road-based alternatives," the company said.
Tesco is not the only grocer heading skyward for last mile delivery. Last month, US grocer Walmart revealed it was investing in drone services provider DroneUp following a trial in 2020, as the supermarket pursues "a scalable last-mile delivery solution". Rival Kroger in May partnered with operator Drone Express to delivery groceries by drone as part of a trial.