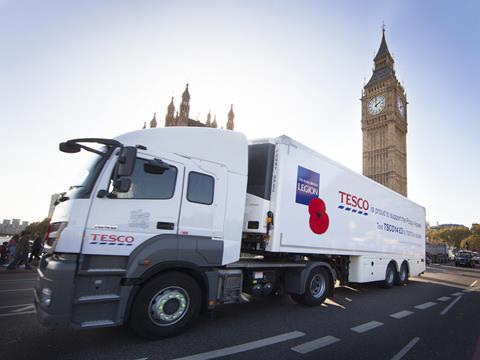 Tesco has offered a £1,000 signing-on fee for any HGV drivers who join the company before the end of September, in a bid to tackle the ongoing labour shortage.
The bonus was advertised on Tesco's recruitment site and comes amid warnings of worsening food shortages unless solutions can be found.
"As a Tesco HGV driver you are the face of your distribution centre and an ambassador on our roads," says the recruitment advert.
"You'll play a vital role for our customers and communities, representing Tesco on the highways and byways of the UK.
"We're looking for people to be our driving force, who love what they do and take pride in what they do."
Alex Veitch, general manager of public policy at Logistics UK, told the BBC incentives being offered by Tesco and other businesses were "obviously the law of supply and demand at work, given the current shortage of HGV drivers".
Tesco's move follows warnings from Richard Burnett, CEO of the Road Haulage Association (RHA), that the supply chain crisis will lead to worsening shortages on the shelves in the next few weeks.
The RHA has estimated there is a 100,000 shortage of HGV drivers across the UK and has said 30,000 HGV driving tests did not take place last year because of the pandemic, whilst a shortage in drivers was been exacerbated by Brexit.