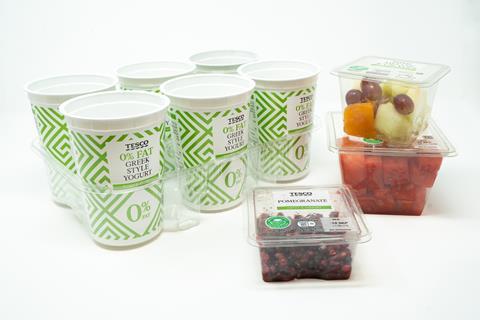 Tesco has joined forces with packaging supplier Faerch to develop a new tray-to-tray recycling solution that ensures secondary plastic packaging can have a second life.
The retailer will require that the plastic packaging used to transport and hold own-brand products on its shelves will be collected by Faerch and recycled back into new food packaging applications.
PET shelf-ready packaging is typically used once and downcycled into other non-food applications.
Through this new closed-loop initiative, Tesco's secondary PET will go through Faerch's recycling process to make new packaging such as pots, tubs and trays – which will then hit supermarket shelves again.
"Wherever we can, we remove or reduce packaging but where it is needed we want to improve circularity to make our packaging as sustainable as possible," said Tesco's sustainable packaging manager William Guest.
"One way we can do that is by ensuring packaging that meets food contact requirements remains within the food packaging sector, being recycled back into food contact packaging."
Faerch's group strategic sales director, Mark Tollman, added: "This is a perfect example of how collaboration between packaging manufacturers, retailers and their suppliers can deliver lasting change and material circularity."
The so-called tray-to-tray method will result in 2,000 tonnes of plastic being recycled into the new food-grade packaging a year, Tesco said.
Read more: Tesco launches 'Loop' refillable aisle boasting 88 branded and own-label products
The retailer will require that all its own-brand and branded suppliers use food contact-approved PET for shelf-ready packaging.
Once the scheme rolls out, packaging for Tesco's own-brand cut fruit, selected yoghurts and meat will contain 30% PET that originated in its own stores.
The move is part of the supermarket's larger plans to reduce plastic usage and increase recyclability across the entire supply chain.
Tesco's 'four Rs' strategy, which was introduced in 2019, aims to tackle the impact of plastic waste by removing packaging where possible, reducing usage overall, reusing more and recycling what's left.
The company, which has also recently introduced flexible plastic recycling facilities across UK stores to help customers recycle items that are typically hard to dispose of such as crisp packets, has set a target to remove half a billion pieces of plastic from its UK business this year.