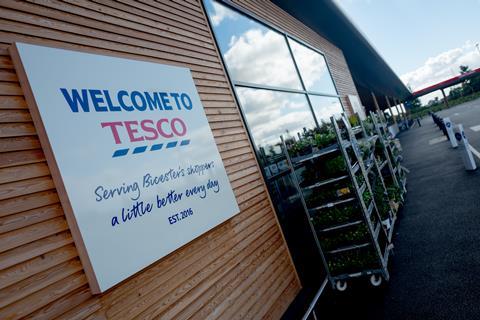 Tesco is planning to roll out mass testing for supermarket workers, as it emerged staff across the entire supply chain will have to be tested for Covid "every few days" in the next phase of the war on the virus.
The UK's biggest supermarket said it was considering "all options" for testing staff, including mass testing at supermarkets but also the possibility of staff carrying out regular tests at home.
It comes as talks between food industry leaders and the government tried to ramp up mass testing on the back of "relatively slow" take-up of the millions of tests being offered to companies.
During the talks Tesco offered to help boost testing by carrying out trials of home testing kits for staff, on top of the on-site testing so far rolled out at food factories, distribution centres and some supermarkets.
It has already brought in twice-a-week testing for more than 3,000 pharmacy staff and testing at DCs in Dagenham and Southampton, which are used for third party drivers crossing the Channel.
"We support the government's rollout of regular testing for frontline workers and are exploring some of the practical ways Tesco might be able to help," said a Tesco spokeswoman.
"We are looking at all options to ensure we continue to protect the safety and wellbeing of our colleagues and customers."
The Grocer understands a target has been set by Defra for three-quarters of all food and drink companies to be involved in the rollout by the end of the month. Currently only around a quarter of eligible companies are believed to be taking part.
Talks this week concentrated on extending testing from food factories to other parts of the supply chain. There were also calls for the threshold for mass testing to be lowered from companies with a minimum of 50 staff, amid fears "millions" of test kits were laying unused in government offices.
Federation of Wholesale Distributors (FWD) CEO James Bielby told MPs on the Environment, Food & Rural Affairs Committee there were "several million of them sitting in a cupboard somewhere in DHSC".
FDF CEO Ian Wright told the committee: "We do have to get mass testing rolled out across the whole sector.
"The next stage of this has to be that we test most people, most of the time. I don't know whether it would be every day, every two days or every three days but it certainly is a thing we need to roll out. We are rolling out across factories and we are trying to roll it out across the supply chain.
"We need to push harder on this now because this is the next stage of ensuring everyone's safety."