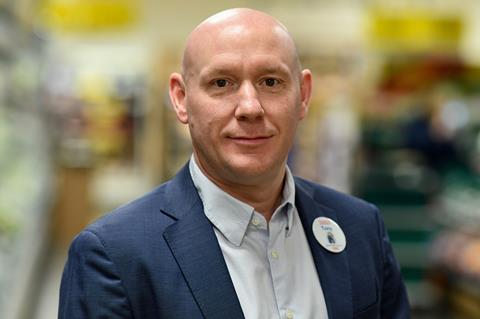 Tesco group COO Tony Hoggett has been promoted to chief strategy & innovation officer.
The new position has been created to steer Tesco's plans as it adapts to the massive changes brought about by the coronavirus pandemic, explained group CEO Ken Murphy in an email to Tesco staff this morning and seen by The Grocer.
"Over the last 12 months, our colleagues have dealt with an extraordinary level of change with exceptional skill," said Murphy. "Thankfully across all our markets we're now starting to look to beyond the lockdown and a return to some form of normality. For our business and our sector, what this new normal looks like is not yet completely clear, but we expect the competitive pressures we face to increase and the pace of change to accelerate driven by technology, innovation and changing customer behaviours.
"With this in mind, I'm delighted that Tony Hoggett will take up the position of chief strategy & innovation officer for Tesco Group. This is a critical role responsible for developing, mobilising and leading our strategic ambitions, working with businesses in each market to ensure we prioritise, align and execute against our group-wide goals."
He added: "Tony will lead group strategic planning, balancing the short, medium and long-term requirements across all our businesses to ensure we're able to maximise our skills, resources and opportunities to drive competitive advantage and serve our customers."
As a result of the move Tesco's innovation team, led by Claire Lorains, and the Tesco business services team, led by Sumit Mitra, will report directly to Hoggett. Its business planning teams and the online team will have dual reporting lines into Hoggett and their country CEOs.
Tesco will not be looking to find a replacement for COO, with Hoggett's UK channels leadership team now reporting to UK & Ireland CEO Jason Tarry.
Murphy continued: "Having spent 30 years in the business across a number of markets as COO, CEO and more recently group COO, Tony has invaluable experience and leadership skills to lead our strategy and innovation agenda through the next chapter of Tesco. Please join me in congratulating Tony on his new role."