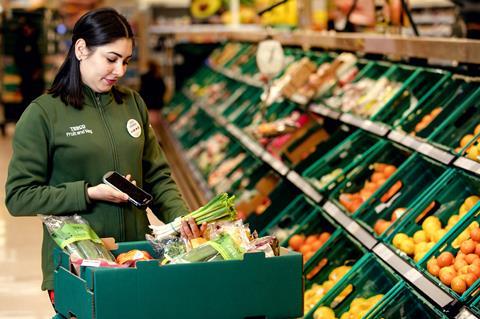 Tesco has reported a huge increase in the amount of surplus food in its UK operations during the course of the pandemic.
The UK's biggest retailer this week revealed its food surplus in 2020/21 hit nearly 50,000 tonnes, compared with less than 37,000 tonnes the previous year.
The figure is more than double the 24,500 thousand tonnes reported when Tesco first started publishing food waste figures in 2016/17.
Tesco said the spike in surplus had been driven by increased buying during the pandemic, which saw its sales grow nearly 8% under lockdown.
The figures also show that despite the increase in surplus, Tesco's tonnage of food wasted fell from just over 40,000 tonnes to 35,000 tonnes, as it ramped up redistribution to food charities such as FareShare.
However, the charity Sustain, which is campaigning to reduce food surplus, said the near 50,000 tonnes generated by Tesco was "shocking" and raised questions over the pandemic's impact.
"These figures are surprising especially given we were all led to believe food was flying off the shelves, and the big food retailers received effectively more than £400m of taxpayer subsidy during the pandemic via free school meals vouchers," said Sustain CEO Kath Dalmeny.
Tesco said it handled more than 10.5 million tonnes of food in 2021/21, compared with 9.9 million the previous year.
Unsold food increased to almost 85,000 tonnes, compared with 77,000 last year, and 71,000 when Tesco first began reporting in 2016.
While our increased sales last year did contribute to a greater amount of surplus food, this was more than offset by a significant increase in the amount of food that we were able to donate and redistribute," said Tony McElroy, head of food waste campaigns at Tesco.