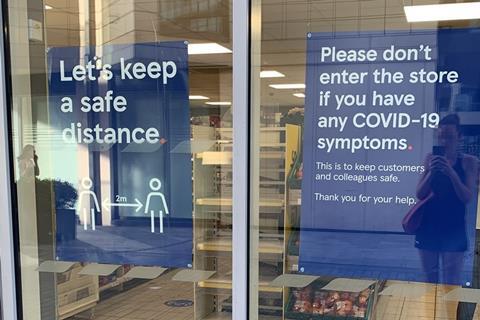 Tesco has warned there is still "uncertainty" over the long-term impact of the Covid pandemic and that it remains a key risk to the business despite the rollout of the vaccine programme.
In its annual report, published today, the retailer said the risk posed to the business was unchanged and warned it was "too early" to gauge how it had affected long-term shopping habits such as the huge shift to online.
However, Tesco said the threat to the business posed by Brexit was "reducing" despite the impact of border checks between Great Britain and Northern Ireland.
The pandemic had been cited as one of the key risks to the business by Tesco, alongside others such as the EU exit and climate change.
"Vaccines have been developed and are being rolled out with significant coverage in our core UK market, however uncertainty remains as to whether recent lockdowns and the vaccination programme are sufficient to bring the pandemic under control and allow normal life to return and, if so, when," says Tesco in the report.
"It is also unclear how the pandemic will have changed the environment in which we operate and the choices customers make."
Tesco said its employees had "worked tirelessly" to minimise disruption during the pandemic.
"The safety and wellbeing of our colleagues and customers has been and continues to be our overriding priority," says the report.
On the threat to the business posed by Brexit, the report said it had been hit by delays to deliveries of food to Ireland.
"The business is impacted by more cumbersome border controls, goods inspection, and customs documentation, with the most trade friction being between Great Britain and Northern Ireland and Ireland.
"The full effect of Brexit on the business will emerge as new trade patterns are established and the new regulatory framework is better understood."
Writing in the introduction to the report, his first since taking over as CEO from Dave Lewis last year, Ken Murphy said the response of Tesco staff to the pandemic had been "fantastic".
"Throughout the pandemic, colleagues have shown incredible resilience, responding with urgency and compassion to ensure our customers and colleagues stayed safe," he said.
"The pandemic has brought challenges to every part of our business, but on a personal level, it has also tested the resilience of our people. We asked our colleagues to step up and be key workers and, putting personal concerns to one side, everyone worked harder than ever in order to serve customers safely.
"I am incredibly proud of the way colleagues across Tesco have responded, showing a combination of skilful retailing with a sense of purpose and compassion and always putting our customers and communities first."