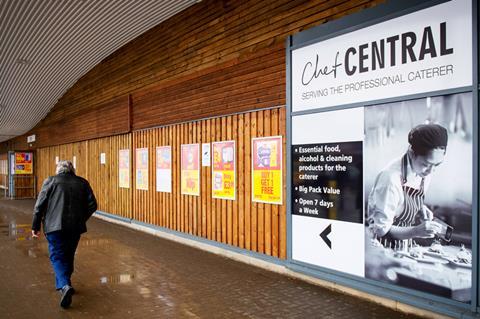 Tesco is to close down the Chef Central store, which was its first major foray into the B2B catering market after the Booker merger.
The store, in Cambridge, which opened in February 2018, is being repurposed to ramp up Tesco's online delivery capacity.
The closure is a further sign of the major impact on Booker's operations from the pandemic.
Sales at Booker, which Tesco bought for £3.7bn in 2017, have been dented by the closure of hospitality businesses.
Like-for-like sales at Booker where down 8.3% over the Christmas period.
In contrast Tesco, like other supermarkets, has seen a huge increase in demand for its online delivery services, with sales up by more than 80% in the quarter, or almost £1bn.
The Grocer understands staff at the store have been informed it will be closing "in the coming weeks".
The Barr Hill store was launched as a separate trading unit next to one of Tesco's flagship stores, including its own entrance, welcome desk and tills and was primarily targeted at the independent catering business customer – a demographic massively hit by lockdown.
Chef Central had previously featured as a sub-fascia in many Booker cash & carry depots.
However, Tesco has also launched more than 300 Chef Central concepts across stores in the UK, varying from a small section of items to whole aisles, which have been aimed at both B2B customers and the general public looking for bulk buys.
Tesco today refused to comment on whether any of the other Chef Central operations would also be wound up.