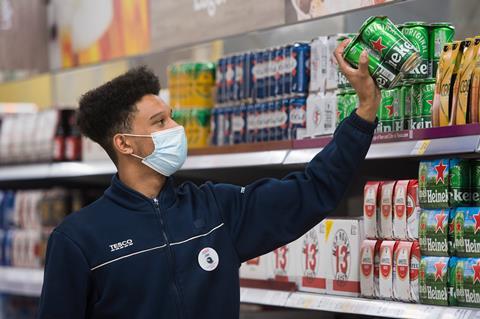 Tesco is to ditch plastic rings and shrink wrap from its entire beer and cider range.
The supermarket will stop receiving drinks that are still held together by soft plastic rings and shrink wrap this month, in a bid to make its range more sustainable.
It said it expected to sell through the last of its remaining stock in the coming weeks and would refuse to order any using the packaging in future.
It claims the move will see 50 million fewer pieces of unrecycled plastic produced each year.
Instead, beer brands who sell to the retailer will have to use materials such as cardboard sleeves, boxes or easily recyclable rigid plastic for their multipacks.
Plastic rings are particularly reviled for their effect on the planet's oceans and wildlife such as birds and turtles.
Tesco quality director Sarah Bradbury said the retailer was "working hand in hand with some of the world's biggest brands to tackle the problem of unnecessary plastic".
"Our mission is to remove, reduce, reuse and recycle so we use as little material as possible and ensure that all the packaging in our stores can be easily recycled."
The move comes as part of a wider push to crack down on plastic by Tesco, called its '4R strategy', under which it will remove plastic where possible, reduce it where it is not possible, reuse more and recycle what's left.
Some of the beer and cider sector's biggest players have already ditched plastic from their packaging over recent years. Carlsberg rolled out eco-friendly 'snap packs' in 2018, while Heineken launched cardboard 'green grips' across its canned portfolio in 2020.
BrewDog, too, ditched plastic packaging completely in 2018, and Budweiser Brewing Group removed plastic rings in 2019.