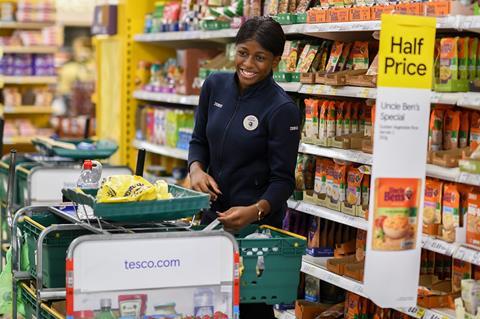 Tesco is employing tens of thousands of part-time staff to cope with the impact of Covid, CEO Ken Murphy said today, with 7,000 vulnerable staff asked to shield at home until lockdown is eased.
Murphy said the UK's biggest retailer currently had around 30,000 staff absent because of Covid.
He said the company had asked many of the 35,000 temporary workers employed over Christmas to stay on until the impact on the workforce reduces, with Tesco employing more than three times as many temporary staff over the festive season as normal.
The Tesco boss said absence rates across the country were around 10%, but were higher than 13% in some areas, including London.
The announcement came as Tesco revealed its incremental costs, including staff absence, were expected to take the current full-year estimate of Covid costs for the UK to £810m – an increase of £85m since its last estimate before the new lockdown.
Murphy said the figures had not yet reached the absence rates of the first peak of the virus, which were around 20% and saw Tesco forced to employ more than 45,000 temporary staff.
Read more:
"Levels of absence are around 13% in London although there may be some areas which are higher," said Murphy. "However, the levels of absence are not as high as they were during the peak of the first lockdown."
He added: "I'm confident the business can handle whatever is thrown at us."
Murphy also joined calls for frontline shop workers to be prioritised for the Covid vaccine but said he believed this should happen only after vulnerable groups had been vaccinated.
"We will be urging the government to vaccinate our key workers alongside others such as teachers," he said. "But we should concentrate on the most vulnerable first."
He also said Tesco had offered to provide resources at a "national level" to help with the rollout of the vaccine.
"Whether that is through our pharmacies, our chiller or using our delivery network we will step up," he said.
Yesterday Asda announced it was the first retailer to be opening an in-store vaccination centre, with others including Morrisons using their car parks to carry out the vaccinations.
Tesco said it had asked all colleagues classed as clinically extremely vulnerable (CEV) or high-risk clinically vulnerable (CV) to remain at home and stressed they would be paid throughout this time.
It has sent the same message to all staff more than 28 weeks pregnant and said pregnant colleagues who are less than 28 weeks pregnant but are extremely clinically vulnerable or higher-risk clinically vulnerable will also remain at home.