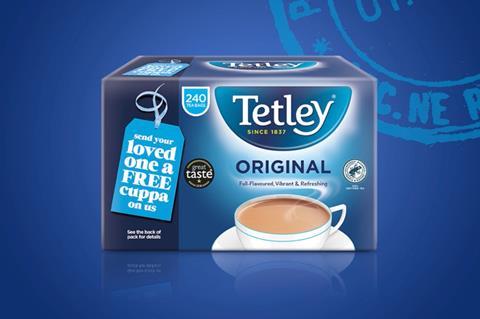 Tetley is splashing £2.5m on a new ad campaign after its supermarket sales fell by almost £5m in the past year.
It has created a new campaign called 'For the Love of Tea', including a national TV ad, social activity and an on-pack promotion, "giving over one million consumers the chance to share their love of tea", it said.
Shoppers who buy a pack of Tetley Original will be able to send on a free cuppa to a loved one, along with a personalised message.
The campaign, which "celebrates the love we have for tea, and all the different ways we enjoy it", will involve further activity online and on social media in 2022.
However, it comes on the back of a challenging year for the brand, whose value dropped by £4.8m in the 52 weeks to 19 June 2021 – a 5.2% decline [NielsenIQ].
However Tetley category development director Kieran Bridges stressed the brand had "increased presence in channels that we don't believe this cut of Nielsen are measuring".
"If we compare current sales to pre-pandemic volumes, then value sales of Tetley are 0.6% down. The picture shows that we're annualising a strong period of sales when people bought more Tetley to see them through the difficult at home days," he said.
The new positioning and campaign was created in partnership with brand strategy and creative communications agency Neverland.
Tetley head of marketing Tuuli Turunen said the push "speaks to all our consumers in a connected and joyful way. This is the start of exciting things for Tetley."
Neverland co-founder Jon Forsyth said: "This campaign puts Tetley back at its rightful place, reclaiming the throne of Britain's most loved tea."
Earlier this month, competitor Twinings also launched a new ad campaign after a year of declining sales – its value dropped by £4.2m last year.
It launched a campaign called 'Alive in Every Drop', which included a trio of TV adverts, aiming to highlight the role tea can play in wellbeing [NielsenIQ].