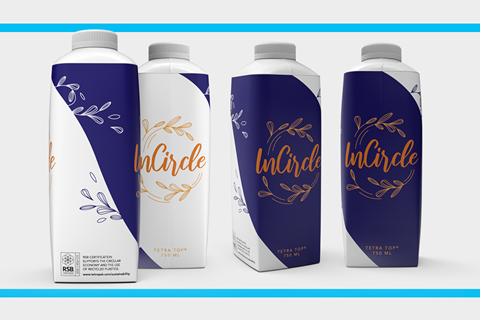 Tetra Pak has introduced recycled polymers to its cartons in a bid to create the "most sustainable food package in the world".
The packaging supplier worked with global chemical company Ineos to create the new material, converting waste plastic into polymers, and replacing oil-based products with material featuring "identical specifications". The result had the same level of product purity as virgin plastic, it said.
The recycled polymers could be used in caps, tops and coatings or Tetra Pak cartons, depending on customer need, it added.
Two Tetra Pak production sites in Europe have so far been certified to produce packaging with the recyled polymers, and Tetra Pak said more sites could be certified "upon market request".
The move would "further enable the sustainability transformation of the food industry", said Tetra Pak, and help contribute to increased recycling rates and making recycling "more economically viable".
The introduction of recycled polymers marked an important step in Tetra Pak's wider approach to circularity, it added, as the company worked towards creating the "world's most sustainable food package", fully made from renewable or recycled materials that were responsibly sourced.
The move led to Tetra Pak becoming the first company in the food and beverage packaging industry to be awarded Advanced Products certification from the Roundtable on Sustainable Biomaterials (RSB).
Tetra Pak VP of packaging solutions Alejandro Cabal said being awarded the certification represented "yet another milestone in our journey towards the world's most sustainable food package: a carton that is fully made from renewable or recycled materials, is convenient and safe – hence enabling a resilient food system – is fully recyclable and carbon-neutral".