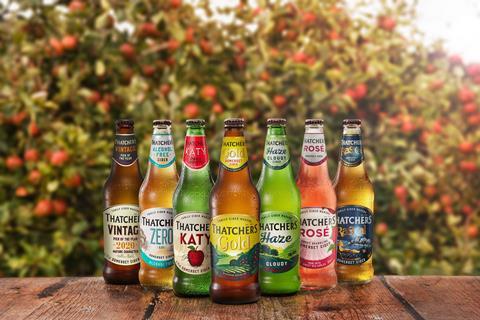 Cider maker Thatchers has escaped the carnage unleashed on the drinks industry by the Covid pandemic as it pivoted quickly to shift more of its Haze and Gold brands through supermarkets.
Revenues increased 22% to £130m in the year ended 31 August 2021 despite the challenges of pubs going into lockdown, newly filed accounts at Companies House showed.
The family owned group outperformed the wider cider market and gained market share thanks to further investment in its brands and the introduction of a new Cloudy Lemon variant to enter the fruit cider category, as well as launching its first alcohol-free cider.
Strong growth continued into the new financial year, with the Haze and Gold brands jumping 81% and 59% in value terms respectively, the biggest gains in the cider aisles [Kantar 52 w/e 21 February 2021]. The overall cider category increased 29% to £244.1m, according to the latest Grocer report on the alcohol sector.
Thatchers, which was equally split between on and off trade pre-pandemic, said it switched about 75% of its hospitality business to supermarkets during the first three months of the March 2020 lockdown by ramping up its canning operations.
About 800,000 new shoppers tried the brand in the past year, adding £3.2m spend in the category [IRI 52 w/e 24 April 2021].
The business also invested a further £11m during the year in the production facility, sustainability initiatives and marketing campaigns.
MD Martin Thatcher said: "Investing in our brands is crucial for the continued success of the company. It encourages innovation and fresh thinking, something we are exceptionally proud of.
"Our focus on keeping our cider making and packaging processes under one roof at Myrtle Farm means we are able to guarantee the quality of our ciders. Furthermore, it puts us in a position to respond quickly and positively to outside influences, such as the Covid-19 pandemic."
He added the virus outbreak provided "a significant challenge" during the year, but the production facility remained open throughout.
"The flexibility of our workforce and production lines meant that the ever-changing demands of our customer base were able to be met," Thatcher said.
"We worked quickly and efficiently with retail customers to keep shelves stocked; and, with hospitality customers, to support them upon their reopening after the national lockdowns.
"Thanks to the huge contribution of our staff, we were able to maintain and increase the supply of our ciders through strong retail distribution during the first, and subsequent, national lockdowns."
Operating profits slipped 20% to £9.5m in the financial year to the end of August. However, the business added its profits were dragged down by a one-off cost of £4.1m for the disposal of a warehouse system investment that "during initial stages of implementation was clearly not going to meet Thatchers' highest standards of quality and customer service".