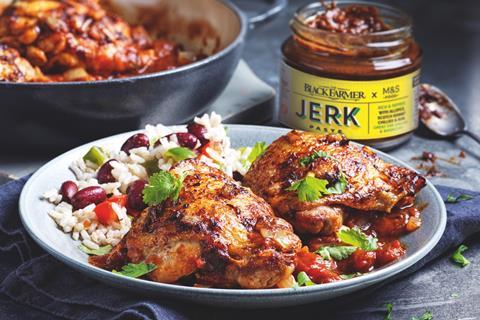 The Black Farmer has partnered with M&S to launch an "authentic" co-branded jerk paste.
The brand's founder Wilfred Emmanuel-Jones said the recipe for the sauce – whose tagline reads "a true taste of my ancestry" – had been passed "through my maternal grandmothers for generations".
"To work together with one of the most established and respected British brands on a jointly branded Caribbean product range is beyond extraordinary," said Emmanuel-Jones.
"After years and years of fighting to gain recognition of black contribution to British history and cuisine in the food industry, this move alone represents giant strides towards achieving that goal."
The paste will roll out across M&S's store estate from 28 September. It "works just as well with traditional chicken as it does with veg and plant-based alternatives", said M&S lead product developer for store cupboard ingredients Sadia Usman.
M&S was "thrilled to be working with The Black Farmer on this brilliant Jerk Paste to help bring our customers that authentic taste of Jamaica", Usman added.
"We work tirelessly to ensure our ranges are faithful to the cuisines that inspire them, and this is no exception. It's been fantastic to have Wilfred's expertise on board so we can do his family recipe justice."
Earlier this year saw Emmanuel-Jones launch a campaign to celebrate the contributions of the Windrush generation to Britain and urge better representation for people of colour in senior food industry roles. At the time of its launch, he slammed what he called a "woeful lack of ethnic diversity" across the food industry.