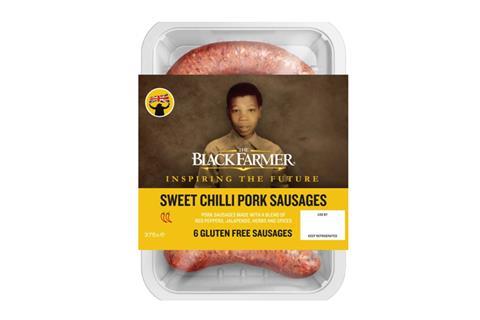 The Black Farmer has launched a campaign to celebrate the contributions of the Windrush generation to Britain and urge better representation for people of colour in senior food industry roles.
Founder Wilfred Emmanuel-Jones' Windrush Initiative, which has been launched to coincide with Windrush Day on Tuesday (22 June), will explain the integral role played in Britain's success since the mid-20th century by individuals who travelled from the Caribbean to Britain in the post-war era.
The people who arrived in the UK between 1948 and 1971 helped the country to navigate severe labour shortages by taking up key roles in the NHS and other major sectors of the economy.
Taking in a national advertising campaign supported by the mults and a limited-edition sweet chilli sausages NPD launch, Emmanuel-Jones – who came to the UK from Jamaica in the 1960s when he was five years old – said he hoped to improve the "woeful lack of ethnic diversity" across the food industry.
"I have been dealing with the major retailers for years and, without exception, their HQ management teams are almost exclusively white," he said. "That needs to change, as it is at odds with their customer base and shop floor staff who are hugely diverse.
"My mission is to use my own success to champion greater diversity and representation within the sector. As a child of the Windrush generation, I feel it is really important to celebrate Windrush Day to not only reflect on the achievements and contributions made by that generation, but to help inspire future generations."
The Black Farmer's new, gluten-free sausages come in pork or chicken variants and will contain a blend of red peppers, jalapeños, honey, herbs and spices in a bid to bring what Emmanuel-Jones called "a taste of the Caribbean" to the British dinnertime staple.
Packs will feature a picture of Emmanuel-Jones from not long after he arrived in the UK on top of a slogan that reads 'Inspiring the Future'. They have been listed in the big four, Waitrose, Ocado and the Co-op (rsp: £3/375g).
Emmanuel-Jones has been an active campaigner on the issue of racial diversity in the UK and has used his brand as a platform to raise awareness of black British heritage.
For 2020's Black History Month, he featured black British heroes Mary Seacole and Lincoln Orville Lynch on his brand's sausage packs – with the proceeds of their sales going to black charities – and narrated a short film refuting racist historical narratives.
At the height of the global Black Lives Matter protests in June, Emmanuel-Jones slammed the "worrying silence" from the food sector on the issue in an article he wrote for The Grocer and claimed retailers had not done enough to tackle a long-standing lack of diversity across both staff and suppliers.
He was awarded an MBE in the 2020 New Year's Honours list for services to farming.