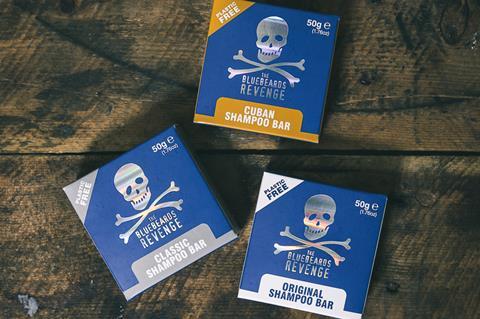 Male grooming brand The Bluebeards Revenge has expanded its range of sustainable products with Shampoo Bar.
Packed in 100% recyclable cardboard, the "zero waste" bar was "a plastic-free alternative to bottled shampoos" said the brand. "In fact, every bar saves the use of two plastic bottles, which is particularly important considering it's now estimated that Brits throw away around 520 million shampoo bottles every year."
Three variants – Classic, Cuban and Original (rsp: £5.99/50g) – are available from today (27 April). Each is vegan and enriched with coconut oil "to provide vital hydration to damaged hair, while effortlessly washing away build-ups of dirt, sweat and styling products". They are also free from parabens and sodium lauryl sulphate – common shampoo ingredients that can cause scalp irritation and dry hair.
The launch is the latest step in The Bluebeards Revenge's mission to improve its packaging recyclability and reduce waste.
It announced on its 10th anniversary in September it would "drastically reduce the amount of virgin plastic and single-use packaging" by 2022, rolling out its best-selling Pre-Shave Oil in a 100% recycled plastic bottle.
"We're really proud of the steps we're taking to create a more eco-friendly range for our customers," said The Bluebeards Revenge head of marketing Brad Wicks.
"The launch of our new 100% plastic-free Shampoo Bars not only shows our determination to meet this goal, but our commitment to continue improving for the future."