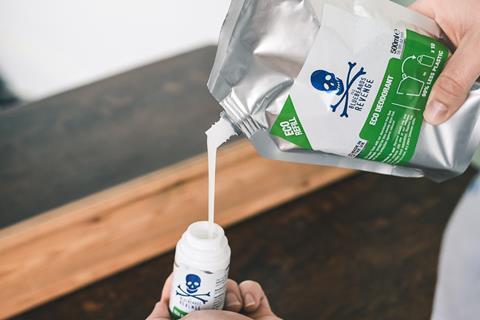 Male grooming brand The Bluebeards Revenge has unveiled a refillable underarm roll-on, as part of its ongoing transition to more sustainable products.
Available in Antiperspirant and Eco Deodorant (rsp: £4.99/50ml), the new roll-on was the product of "many months of development" said the brand. It had been "designed especially with sustainability in mind" it added.
The roll-on, which has an unscrewable top, can be topped up via a pouch containing 10 refills (rsp: £29.99/500ml), which would "reduce plastic waste by up to 90%" The Bluebeards Revenge said.
"Better still, by opting to use a refillable roll-on, customers can help to reduce the environmental impacts caused by the 600 million aerosol cans the UK disposes of each year."
Both variants of the new roll-on featured the brand's "fresh and masculine Original scent: a cool blend of blend of Madagascan vanilla, classic sandalwood and patchouli" it added.
The NPD was "born out of a desire to support sustainability" said The Bluebeards Revenge head of marketing Brad Wicks. It was "designed to reduce the amount of waste we collectively create, without compromising on quality".
The new roll-on marked "our very first step on a refill journey that we hope our customers will support" he added. "In the coming months, we'll be making even more of our bestsellers available in refill sizes, while doing our bit to educate our audience on the benefits of refilling the bottles and tins they already own."
It comes after The Bluebeards Revenge last month expanded its range of sustainable products with Shampoo Bar – a "a plastic-free alternative to bottled shampoos" in Classic, Cuban and Original.
Both launches are part of the brand's aim to "drastically reduce the amount of virgin plastic and single-use packaging" by 2022.