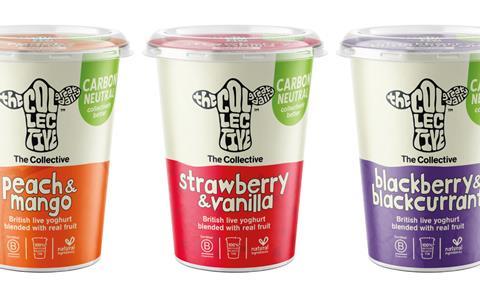 The Collective will launch what it claims will be the UK's first carbon neutral dairy yoghurt in September.
The yoghurt brand described its Blended range as a "first big step" in its mission to become a fully carbon neutral business by 2025, and one that reflected its "eat better, do better" mantra.
The new range consists of three variants of big pot live natural yoghurts, blended with real fruit in Strawberry & Vanilla, Peach & Mango and Blackberry & Blackcurrant flavours (rsp: £1.75/450g). Timed to coincide with The Collective's 10th birthday celebrations, the range will go on sale nationally from 6 September.
The NPD's carbon neutral status has been achieved through offsetting via a partnership with sustainability consultancy Climate Partner.
The brand would continue to work with the consultancy as it sought to meet its 2025 target, added general manager Sarah Smart, and was "challenging ourselves to look for all opportunities to [further] reduce our carbon footprint".
Shoppers would be able to find out more about the range's carbon footprint and The Collective's carbon neutrality target through a special page on the brand's website, it said.
The NPD also contained about 11% less sugar than PHE recommendations and was 12.2% below the current category average, it added. The product was also packaged in 100% recyclable pots, made from 100% recycled material.
"Giving back has always been a part of our DNA at The Collective," said Smart. "From creating more sustainable and nutritious products, to giving back to causes we are passionate about – people, the planet and our communities are at the heart of everything we do."
The brand has also announced a year's funding for pilot scheme Grow, a London charity that teaches children about the environment, sustainability and mental wellbeing as part of their curriculum.