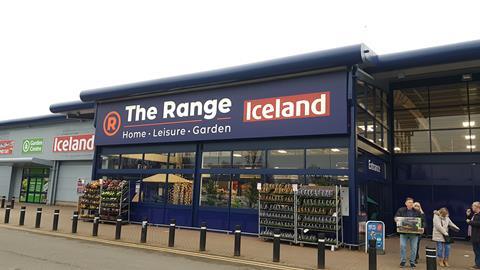 Iceland is planning to open nine supermarkets inside branches of The Range within the next five weeks, in a new expansion of the partnership.
The two retailers are "starting off 2021 with another big rollout" and plan to open "many more Iceland departments throughout the year", said The Range, which has remained open in lockdowns.
The first Iceland inside The Range opened in August 2018 and so far about 70 have followed.
The Iceland departments are in effect complete branches of the frozen food chain inside one of the The Range's big-shed retail park stores. The aim is to provide a 'one-stop shop' for all needs by combining Iceland's complete offering with The Range's extensive selection of home, garden, leisure and fmcg products. Together the range comes to over 80,000 products.
The latest planned openings represent an acceleration of a rollout that had reached about 50 stores by the time the pandemic arrived in the UK.
The nine branches due to get the treatment by 12 March follow the opening of an Iceland inside The Range in Culverhouse Cross, Cardiff, last week. The Culverhouse branch is also getting an 'Iceland café' serving the supermarket's food.
"The new food department will be a great benefit to both new and regular customers, allowing them to purchase all their necessities under one roof," said a spokeswoman for The Range.
"From well-known brands such as Greggs and Slimming World, to usual essentials like milk, bread and veg, the new department will be offering a wide choice of meal options at great-value prices."
Iceland has enjoyed significant sales growth recently, with estate expansion credited as a reason. The business was a Christmas winner, with grocery sales up 19.3% in the four weeks to 27 December, slower only than online pureplay Ocado among major supermarkets, according to Kantar. In the 12 weeks to 24 January, Iceland's sales were up 21.8%.
Iceland has opened stores at a rate approaching Lidl and Aldi, adding more than 60 since March 2019, while reaching new customers through The Food Warehouse, as well as The Range.
Founded in 1989 as a market stall in Plymouth, The Range has more than 180 stores across the UK and Ireland.
These are the nine branches due to get an Iceland department by mid-March.
| St Austell | 12.02.2021 |
| --- | --- |
| Cowes | 12.02.2021 |
| Ballymena | 19.02.2021 |
| Rhyl | 26.02.2021 |
| Glasgow | 05.03.2021 |
| Culverhouse Cross | 05.02.21 |
| Newark | 12.03.21 |
| Slough | 19.03.21 |
| Worthing | 12.03.21 |