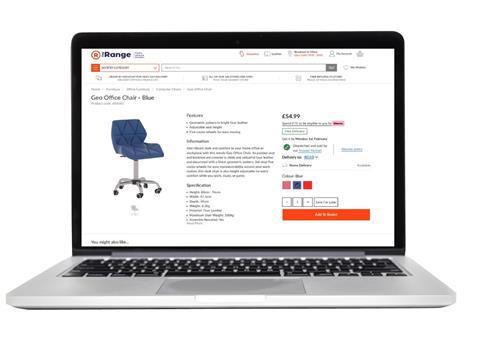 The Range has launched an Amazon-style marketplace allowing third-party sellers to offer their products on its website.
Around 3,000 third-party offerings are listed now on The Range's website, spanning general merchandise categories including furniture, electronics, lighting and DIY. The Range is looking for clothing and jewellery sellers to sign up next.
The launch is the culmination of plans announced in October last year, when The Range invited potential sellers to register their interest. There was also a "soft launch" with "a few suppliers" late last year to iron out any technical issues, a spokeswoman said today.
The Range has billed the process as simple for sellers, who add their own listings to the site, pay a fee when a product is sold and receive payment from the retailer after fulfilling the order.
Sellers also get rights to be the exclusive vendor of a product on the site, to avoid competition between third parties.
"The Range Marketplace prides itself on ensuring that there is no steep learning curve for suppliers, with a simple application process and fast product loading procedure," said the spokeswoman.
"Alongside elevating their supplier partners' products, as well as exposing them to thousands of daily web visitors, there are also no set-up, subscription or monthly fees, only fees after a product is sold."
The home, garden and leisure retailer already offers over 65,000 of its own products across 16 departments. About 75 of its branches also have an on-site Iceland, selling groceries in-store only.
The Range's website claims to be able to introduce sellers to "43 million new potential customers".
Third parties are described as "trusted partners" in product listings.
"We're able to offer our customers an even wider selection of fantastic products by working with a group of approved and trusted partners," the website says.
"When buying items that are sold and dispatched by a trusted partner, your contract of sale will be with them instead of us."
Unlike products sold by The Range itself, third-party products cannot be returned in store and must instead be sent back to the seller.