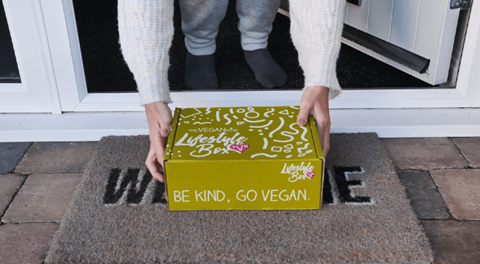 Online vegan supermarket The Vegan Kind has raised £3.5m as investors continue to pour money into thriving plant-based businesses and DTC operations.
The company said the investment was the biggest ever funding round for a vegan retailer in the UK.
Husband-and-wife team Scott and Karris McCulloch launched the business from their two-bedroom flat in Glasgow as a subscription delivery box service in 2013 before expanding with the online vegan supermarket in 2016.
The Vegan Kind moved into a new 35,000 sq ft warehouse in October 2020 to keep up with demand – with the website averaging 200,000 visits a month – and now offers customers next-day delivery on 6,000 plant-based products.
As part of the £3.5m fundraising, led by investment firm Literacy Capital, the company will add further retail and consumer experience in the short term to help the existing team continue growth.
Scott McCulloch said the funding signalled the start of a new chapter for The Vegan Kind.
"While we have moved mountains in the last seven years, helping take veganism mainstream, this raise will allow us to ramp up considerably, investing in our people, inventory, infrastructure, marketing and more," he added.
"At The Vegan Kind, we all know that the world needs more people to go vegan or plant based, and we want to show them just how easy it can be. We have lots of exciting developments in the works such as TVK Health, and hundreds of new brands and products waiting to be listed. We have much to do, and we cannot wait to get to work."
PwC advised The Vegan Kind on the raise through its early stage division PwC Raise | Ventures.
Glen Waters, head of PwC Raise | Ventures, said: "TheVeganKind's growth story is exceptional given they were bootstrapped up until March 2020 and as a team have continued to demonstrate how capable they are, as they look to take the business to that next level."