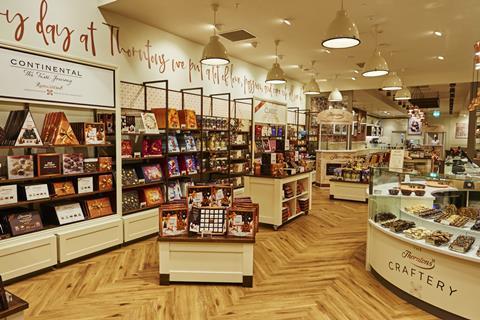 Chocolatier Thorntons is set to disappear from the high street following a decision to close down its remaining network of 61 stores, putting more than 600 jobs at risk.
The business, which has been owned by Italian confectionery giant Ferrero since 2015, said in a statement on its website that the challenges it faced were too severe.
"Despite our best efforts we have taken the difficult decision to go into full consultation to start the permanent closure of our retail store estate," retail director Adam Goddard added.
Thorntons, which is based in Derbyshire, will continue to trade online and also sell its range of chocolates in the supermarket and other retailers.
The retail side of the business has been hit hard by the coronavirus pandemic, with stores closed during lockdowns and missing out during the key trading periods of Easter and Christmas.
However, online sales surged 71% during 2020 as consumers adopted new digital habits, with more than four million customers visiting the Thorntons website last year.
"As customers continue to change the way they shop, we must change with them," Goddard said.
"We have seen a strong growth in Thorntons.co.uk and this will remain a key focus for us in continuing to provide you with your favourite Thorntons ranges, including our unique personalisation offering. In addition, we continue to invest in building our brand in grocery channels with our partners in order to meet the demand from you, our loyal customers."
Thorntons, which was established in 1911, has struggled for a long time before and since the Ferrero acquisition. Its sprawling estate has been cut back from almost 400 stores in the past decade as it struggled to adapt.
Ferrero decided 23 stores would not reopen following the first national coronavirus lockdown last year, but the Italian owner had invested in converting seven stores into a new premium destination format.
Nevertheless, Ferrero has racked up losses of around £130m since the 2015 takeover, with sales plummeting as the retail base continued to be trimmed.
Revenues fell another 9.5% to £122.3m in the year to 31 August 2019, according to the most recent accounts available at Companies House, with pre-tax losses totalling £35m.
Today it decided the remaining 61 stores would not reopen next month when lockdown restrictions begin to be lifted for non-essential retailers.
"Like many companies, we have been operating for a long time in a tough and challenging retail environment," Goddard added in today's statement.
"We have been committed to transforming and growing a successful Thorntons retail estate; this has included significant investments to open new format stores and cafes and ensuring we had stores in the right locations.
"However, changing dynamics of the high street, shifting customer behaviour to online, the ongoing impact of Covid-19 and the numerous lockdown restrictions over the last year – especially during our key trading periods at Easter and Christmas – has meant we have been operating in the most challenging circumstances."
The statement concluded: "We remain committed to our iconic Thorntons brand and will continue to invest further in the future potential to ensure we evolve with the times."