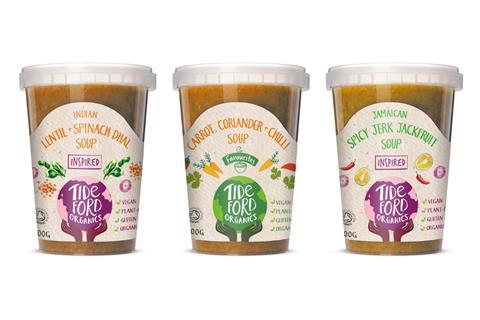 Tideford Organics is relaunching with a new logo and a raft of NPD.
The relaunch will see the organic brand add a 14-strong range of NPD in September. It has also reformulated 12 of its existing recipes and moved two of its pesto SKUs into new packaging to bring them in line with the rest of the range.
The new logo would clearly communicate its organic and plant-based status on pack, providing clearer signposting for consumers, it said.
The relaunch – which comes as part of a £1m investment in the brand over three years – will also see it segment its chilled soups and veg pots into three sub-ranges, underpinned by the "key food trends of 2021": Superfoods, Inspired and Favourites.
The Superfoods range had been created in partnership with nutritionist Jenna Hope, to "support the mind and body's natural health", said Tideford Organics. It will include its new Comforting Carrot & Ginger Soup and Revitalising Butternut & Apricot Tagine Veg Pot SKUs.
Inspired, meanwhile, would take consumers on a "flavour journey through some of international cuisine's best-loved and most recognisable recipes", it said. It will include the likes of its new Jamaican Spicy Jerk Jackfruit Soup and Thai Green Curry Veg Pot SKUs.
Finally, its Favourites range was inspired by the nation's favourite soup flavours, each with its very own "Tideford twist" to make it vegan, gluten- and nut-free, it said. It will include a Creamy Mushroom Soup NPD, made using creamed coconut and soya milk.
The relaunch will also see Tideford Organics add two new pasta sauces – its Vegetable Bolognese Sauce and Tomato & Jackfruit Ragu Sauce – to its Cook's Ingredients range.
The SKUs were designed to appeal to "home cooks seeking 100% plant-based and healthy organic options for cooking from scratch", it said.
The products will roll into Sainsbury's and Ocado from September (rsp: £1.79-£2.79/150g-600g).
"There is a growing desire by consumers to buy both plant-based and organic and this is reflected in our new-look packaging and product ranges, as well as the marketing support for the brand", said Tideford Organics executive chair David Page.
"We know Tideford's unique organic and plant-based positioning is attractive to vegans, flexitarians and health-seekers and as such the brand is extremely well-placed to meet consumers' needs", he added.