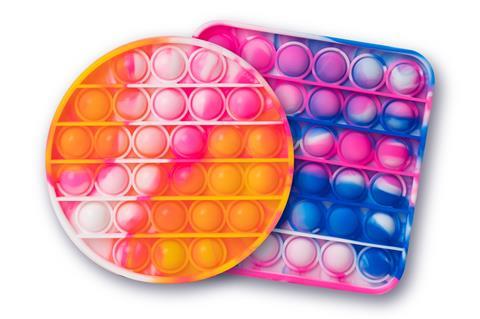 Convenience stores are enjoying a strong surge in fidget toy sales, driven by a new TikTok craze.
Glasgow-based wholesale supplier H Grossman told The Grocer the TikTok trend was the "catalyst" to get on board and has so far placed orders for 2.4 million items.
Its first order, which arrived in February, went to major toy retailers and through buying group Toymaster.
It has since fed into the convenience market through wholesalers including Perkins Group, Suleman & Co, Sher Brothers, LTC Wholesale and Clyde Importers.
Its latest order included five new products: Jumbo Push Popper Mat, Dinosaur Push Popper, Unicorn Push Popper, Rainbow Push Popper and Pineapple Push Popper.
Other variants include the Fidget Track, which is a jointed fiddle toy that bends and flexes into a range of different shapes, and the Pea Pod Push Popper Key Chain, which behaves like reusable bubble wrap.
"These have been really well received by a number of our customers who are looking to target a pocket money purchase," said Perkins Group operations manager Darren Walker.
"We highlight any products that we know will sell well and push poppers are certainly on trend at the moment.
"We are waiting for more stock and looking forward to seeing the line extensions. I have a nine-year-old daughter so I know that these are the latest craze, she really loves them."
Read more:
Sandeep Bains, a Southern Co-op franchisee in Faversham, Kent, said the tactile toys first hit his store four weeks ago, and now sells 10 lines after starting off with just two.
"TikTok is where NPD is now," he said. "And wherever TikTok is, that's where the money is."
Amrit Pahal, owner of Nisa Local in High Heath, Walsall is currently selling 40 different variants of the toys.
"I've sold between £5,000 to £7,000 worth of the toys in just one month. We've been smashing them. We've got kids coming in from everywhere to come and grab these fidget toys."