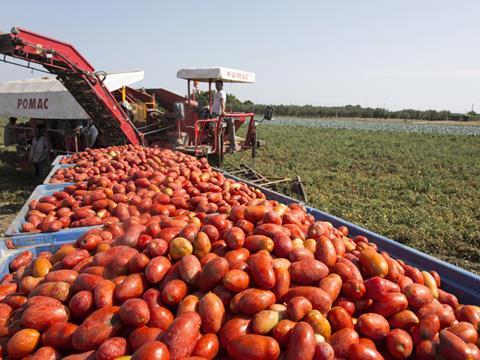 Tinned tomato suppliers have reintroduced supermarket rationing as stocks run low following three years of poor harvests.
Limits on how much each supermarket receives have become necessary to avoid stocks running out before the next harvest begins in August.
An acute can shortage has exacerbated the situation, a consequence of China buying up global steel supplies as part of its economic recovery from the pandemic.
Tomato suppliers first began rationing retailers in April last year when panic-buying by shoppers placed an unprecedented strain on supplies.
Diego Pariotti, export commercial & marketing director at Conserve Italia, confirmed the same policy has now returned. "We are basically out of stock on every single line because for the last three years we didn't have enough to satisfy demand."
Conserve Italia, owner of brands such as Cirio, has advised retailers to remove promotions to try and reduce shopper demand.
Wholesale prices for Italian tomatoes are already up 20% since last year and could increase by as much as 50% in the coming month, according to Jason Bull, director at Eurostar Commodities.
The shortage of Italian tomatoes has contributed to a rise in food fraud in recent months. One alleged case came to light in April this year, when Italian police claimed they had found over 4,400 tonnes of Petti Passata tomato products to be incorrectly labelled as "100% Italian".
Petti Passata has since assured its customers in the UK such as Ocado that it could "guarantee" the goods sold to them were genuine.
Pariotti argued the risk of fraud in tomatoes is a consequences of supermarkets devaluing the product and using it as a draw to attract customers. "On any market when you push the supplier to go down, down and down on costs, there is always a risk of fraud just around the corner," he said.
"Unfortunately, if you want a proper Italian product from a company that is respecting the rules, you need to pay for it. You cannot always use it as an attraction to get your customers into the stores."
Italy supplies more than three quarters of the UK's tomatoes each year, according to official customs data, around ten times more than Spain, the next biggest supplier.