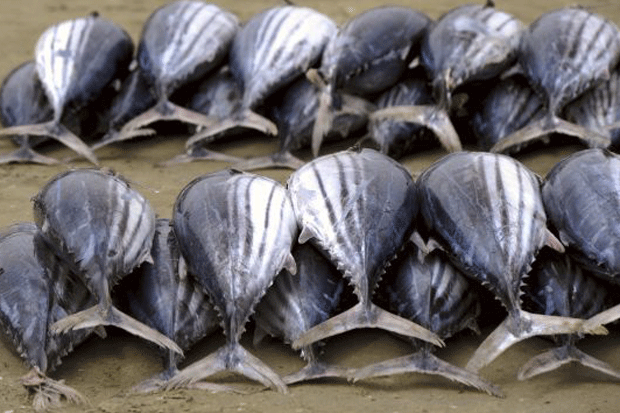 Retailers and seafood companies have called for urgent action after the MSC warned 22 fisheries representing 73% of the world's MSC-certified tuna could be stripped of their certification.
Yesterday (27 July) the MSC said the fisheries, including those operated by Fiji and the Parties of the Nauru Agreement (PNA), faced suspension in June 2023 as no intergovernmental agreement on sustainable shared stocks management was forthcoming.
Management measures needing to be implemented by the Western & Central Pacific Fisheries Commission included harvest strategies and control rules, the NGO said. It added it had been pushing for such action since 2019 and gave WCPFC until December 2022 to conclude negotiations.
"Harvest strategies and harvest control rules play an essential role in making sure enough fish are left in the sea for them to replenish," said MSC chief program officer Nicolas Guichoux. "If tuna from the western central Pacific Ocean is to be fished sustainably in the long term, members of the regional management agency must agree to secure these vital stock protections without delay."
Should the WCPFC fail to hit its deadline, not only would the blue tick disappear from products sourced from the region, but it could also take a significant amount of time before the fisheries were reinstated should the organisation reach an agreement at a later date.
The Global Tuna Alliance, a group of supermarkets – including the big four in the UK – and key suppliers who have committed to improving the sustainability of tuna, urged the states making up the WCPFC to "accelerate action" and agree to implement "comprehensive" measures for tuna stocks.
"[Western and central Pacific Ocean fisheries] represent over two million tonnes of certified – or possibly certified – tuna within the supply chain each year," said GTA executive director Tom Pickerell.
"These fisheries are hugely important to companies with sustainable seafood commitments and the loss of them could have significant market consequences."
More than £1bn a year is spent by consumers on MSC-certified products, with sales being driven increasingly by consumer concerns over sustainability. Polling by MSC last year found 52% of shoppers had changed the way they had shopped, with one in five switching to a brand or product that said it helped the oceans or fish.
The latest developments come after the MSC has been placed under mounting pressure to reform its operations.
In March, Netflix documentary Seaspiracy questioned the efficacy of sustainable certification and was particularly critical of the MSC. While the NGO said at the time it agreed more attention needed to be given to "the crisis of overfishing", it said some of the claims made in Seaspiracy were "misleading".
Meanwhile, in June, campaign group On The Hook called for the organisation to undergo an externally commissioned "full independent review" of its standard and operations after accusing it of ducking scrutiny and failing to do enough to adequately protect wildlife. The MSC rejected the claims.