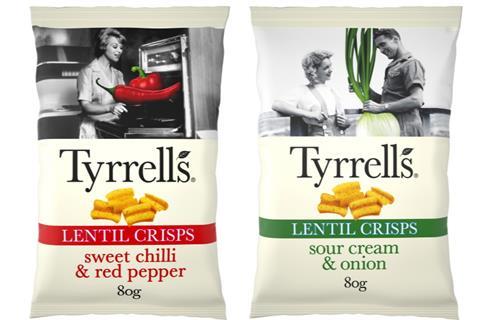 Tyrrells is mounting a major challenge to Eat Real with a duo of low-fat lentil crisps.
The KP Snacks-owned brand is expanding into healthier crisps with two 'Tyrrellbly Tasty' flavours – Sweet Chilli & Red Pepper and Sour Cream & Onion – which are are billed as containing 30% less fat than regular potato crisps.
They were created "to meet consumer demand and tap into the 'better for you' trend" said the brand, and would "drive sales in the premium snacks segment by attracting more consumers with a permissible snacking option" (rsp: £2/80g).
The NPD used "only the best quality ingredients as well as popular flavour combinations", said Tyrrells brand manager Liz Eighteen, adding it "caters to the long-term trend of healthier snacking without compromising on our brand's great taste credentials".
They will hit Sainsbury's from 8 August, followed by Waitrose from 13 September.
It's the latest in a swathe of activity from crisps brands to make their offers healthier as the government's HFSS clampdown looms.
Eat Real, for instance, was recently given a massive overhaul and relaunched in a bid to become a "fully non-HFSS" brand, with a slew of new launches and recipe changes.
Snack a Jacks, too, was overhauled by owner PepsiCo with a new look and reformulations to make it non-HFSS.
Startup Mindful Snacker, meanwhile, debuted in April with a full eight-strong range of non-HFSS crisps made with a proprietary process using three different ovens to remove the moisture from potatoes before seasoning and bagging.