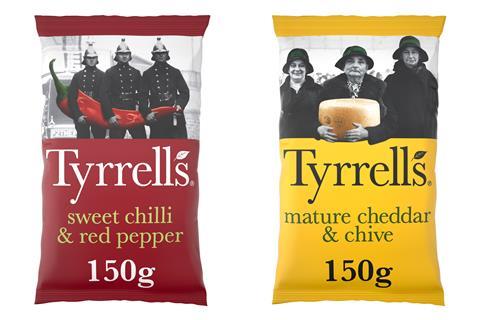 Tyrrells is returning to TV screens with its 'Tyrrellbly Tyrrellbly Tasty' campaign.
The KP Snacks-owned brand has splashed £1m on the campaign, which will run over the Easter period from 15 March to 18 April.
The ad will focus on the taste of Tyrrells, championing its "irresistible flavour credentials", it said.
As before, the advert takes old Pathé footage and inserts giant bags of crisps inserted in a "humorous" way.
It features the strapline "there's tasty, then there's Tyrrellbly, Tyrrellbly, Tyrrellbly tasty".
KP Snacks marketing director Kevin McNair said the "evolved" campaign highlighted "just how confident we are in the delicious taste of our products".
"Quality is at the heart of the Tyrrells offering, making it the perfect product for consumers looking for a premium sharing experience across all occasions but particularly this Easter," he added.