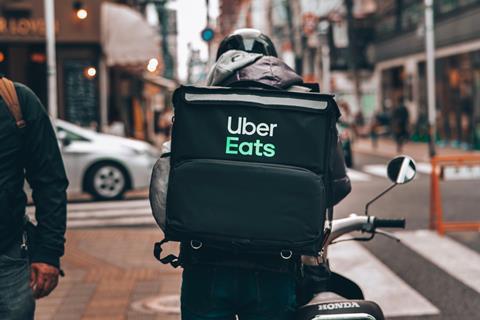 Uber Eats has launched an in-app feature which lists calorie counts next to menu options.
Leon, Pizza Hut and Burger King are the first vendors to trial the feature with "more restaurants to follow" Uber said.
Regulations laid out by parliament in May require large businesses with 250 or more employees, including cafés, restaurants and takeaways, to display the calorie information of non-prepacked food and soft drink items that are prepared for customers.
The new rules – which come into force in April next year – mean calorie information must be displayed at the 'point of choice' including online menus and on food delivery platforms.
"This is an enormously important step by Uber Eats, and the restaurants they work with, to help customers make informed choices about the food they eat – well ahead of next April's deadline. I was pleased to see this action," said public health minister Jo Churchill MP.
The new feature is likely to be a popular one with Uber Eats users, with 79% of respondents to a Public Health England survey agreeing menus should include the number of calories in items.
"We want to empower our customers to make healthier choices. This is why we're giving them the information they need to compare different meals and make an informed decision about what they order," said Sunjiv Shah, general manager for Uber Eats in the UK & Ireland.
The platform said it had a "large and growing range of healthy options, ranging from salads, wraps and poke bowls".
Uber Eats rival Deliveroo last year announced a £1m healthy eating investment which involved providing a consultancy service to restaurant partners to help them increase healthy options and the developing of new, nutritious delivery-only brands, which will be licensed to restaurant partners.
Last summer Deliveroo said it had seen a 282% increase in demand for 'healthy orders' on the platform.