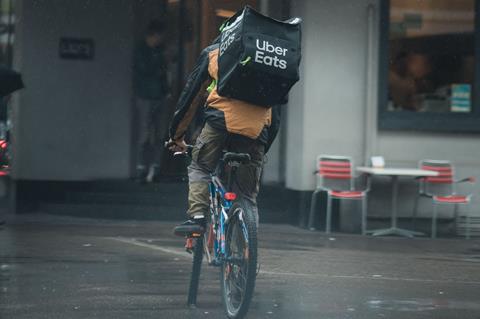 Uber has told Uber Eats couriers that last week's Supreme Court verdict, which ruled its drivers must be treated as workers, does not relate to them.
The ride hailing firm has long claimed its taxi service drivers were 'partners' and so not entitled to rights normally given to workers, like paid holiday and a minimum wage.
But on Friday the Supreme Court ruled in agreement with the Employment Tribunal, Employment Appeal Tribunal and Court of Appeal that drivers are 'workers' rather than self-employed independent contractors.
Uber told food couriers on the weekend that the verdict "does not relate" to them, or anyone but the "small group of drivers" involved in the case.
Several supermarkets and convenience retailers have forged partnerships with Uber Eats during the pandemic, inlcuding Asda, Iceland and Sainsbury's. The platform has, according to Takealytics, seen close to 30% growth in the number of grocery and convenience outlets featured on its platform in the past three months – up from 1,886 in November to 2,447 in February.
But James Farrar, co-lead claimant and App Drivers & Couriers Union general secretary, said the ruling will "fundamentally re-order the gig economy and bring an end to rife exploitation of workers by means of algorithmic and contract trickery".
"Uber drivers are cruelly sold a false dream of endless flexibility and entrepreneurial freedom. The reality has been illegally low pay, dangerously long hours and intense digital surveillance. I am delighted that workers at last have some remedy because of this ruling, but the government must urgently strengthen the law so that gig workers may also have access to sick pay and protection from unfair dismissal," he added.
Law firm Leigh Day, which represented several of the Uber drivers in the case, said the ruling was likely to impact similar, active claims from its clients at Addison Lee and Stuart.
It believes Uber drivers could be entitled to an average of £12,000 each in compensation.
"Uber has consistently suggested that the rulings only affect two drivers, but Leigh Day will be claiming compensation on behalf of the thousands of drivers who have joined its claim," said partner Nigel Mackay.
Uber said it was about to launch a "nationwide consultation" with all active drivers to gather what they like about Uber and "crucially – where things could improve".
"At a time when we need more jobs, not fewer, we believe Uber and other platforms can be a bridge to a sustainable economic recovery. We've made a lot of progress in recent years, but we know there is more to do," Uber said.