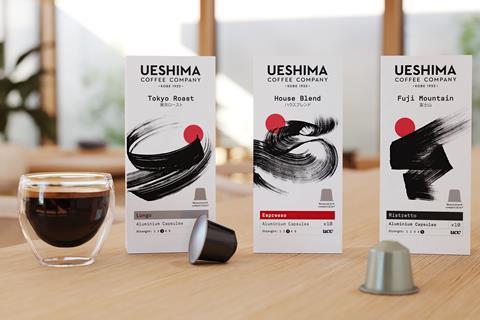 UCC Coffee is bringing top Japanese coffee brand Ueshima Coffee Company to the UK.
The brand, which is from Kobe, is billed as offering a range of "unique, sustainable and premium coffees" representing "an authentic taste of Japan".
Ueshima's debut trio – Tokyo Roast, House Blend and Fuji Mountain – includes beans, roast and ground coffee, and Nespresso-compatible aluminium capsules (rsp: £3.50-£4.25).
The blends were developed "using original recipes and modern roasting profiles to suit European tastes", said the brand.
The entire range is Rainforest Alliance certified and uses 100% recyclable packaging suitable for local waste streams and TerraCycle.
The packs feature artwork by Japanese calligraphy artist Kashuu.
UCC Coffee Europe CEO Paul Molyneux called the launch a "key move" for UCC.
"This is a single-minded launch that taps into the biggest growth opportunities in the market."
Further NPD will join the range in spring 2021, as well as a phased launch into other European markets later in the year.