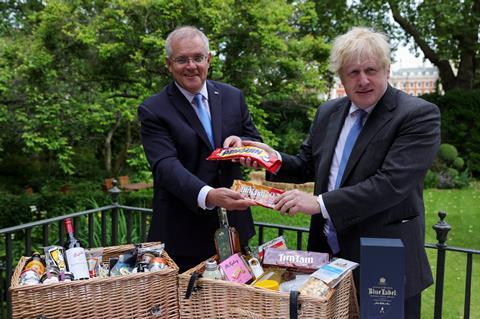 The UK and Australia have agreed the broad terms of a free trade deal that includes a 15-year cap on tariff-free imports to the UK.
The in-principle agreement was reached despite concerns raised by farmers in both countries over certain aspects of the deal.
British farmers are concerned that tariff-free, quota-free imports of Australian beef, lamb and sugar will undermine the domestic agriculture sector, while campaigners have raised alarm over Australian welfare standards and use of antibiotics.
The government said UK farmers will be protected by "tariff rate quotas and other safeguards" and the 15-year cap on tariff-free imports.
Australian farmers meanwhile worry that proposals to exempt young Brits from farm work as part of their visa applications could exacerbate labour shortages in the sector.
It comes as the government is facing demands to give parliament greater powers to scrutinise new trade deals. A cross-party group of 24 MPs have written to trade secretary Liz Truss stating they have "urgent concerns" over the impact of the Australian deal. Trade deals are currently signed prior to any parliamentary debate.
Under the deal, British importers will no longer pay tariffs on Australian wines such as Jacob's Creek and Hardy's wines – a policy of great relief to Australian vineyards who were recently hit by 200% tariffs on sales to China. Scotch whisky exports meanwhile are now exempt from a 5% tariff when arriving in Australia.
Miles Beale, CEO of the Wine and Spirit Trade Association in the UK, welcomed the news. "The benefits of a tariff-free, quota-free UK-Australia trade deal are great news for British producers exporting English wine and spirits to Australia. It's also good news for importers as it will enhance the UK as a global hub for wine trading, and will ultimately benefit UK consumers too."
The full details of the deal remain limited for now with the final deal not expected to be agreed for some time. The government said an 'agreement in principle' will be published in the coming days.
The main elements of the agreement were sealed by Boris Johnson and the Australian prime minister, Scott Morrison, over dinner at Downing Street on Monday.
Johnson said the deal was "global Britain at its best – looking outwards and striking deals that deepen our alliances and help ensure every part of the country builds back better from the pandemic".
The government hopes the deal with Australia will also be a gateway to join the Comprehensive and Progressive Agreement for Trans-Pacific Partnership (CPTPP). Liz Truss said joining the CPTPP would "create unheralded opportunities for our farmers, makers, innovators and investors to do business in the future of engine room of the global economy