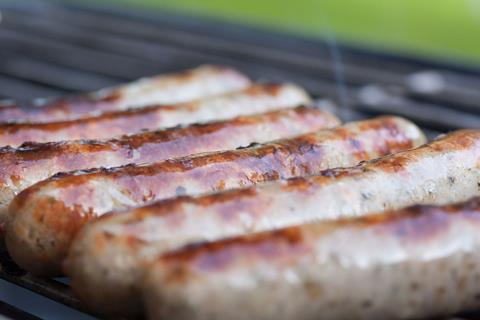 Talks aimed at resolving the dispute over Brexit checks in Northern Ireland have ended without agreement.
The UK's David Frost met with EU counterpart Maroš Šefčovič on Wednesday to discuss the escalating crisis over Northern Ireland. Exports of sausages and other chilled meats will effectively be banned from moving from Great Britain to Northern Ireland at the end of the month.
The UK said it may opt to unilaterally extend the deadline, a move that led the EU to warn it could lead to an all-out trade war including legal action and tariffs.
Speaking after the meeting, Frost said: "The problem we've got is the protocol is being implemented in a way which is causing disruption in Northern Ireland and we had some pretty frank and honest discussions about that situation today.
"We don't see what risk is caused to Northern Ireland if chilled meats are imported there from GB."
In a statement, the UK said no substantive progress had been made on a veterinary agreement or a trusted trader scheme for agri-food traders either. "There weren't any breakthroughs," Frost added. "There aren't any breakdowns either and we're going to carry on talking."
Aodhán Connolly, director of the Northern Ireland Retail Consortium, said it was "disappointing" that yet another Joint Committee meeting between the EU and UK has ended without substantial progress.
"The clock is counting down to the end of the grace period for products of animal origin. We need immediate solutions to keep goods flowing."
Šefčovič denied earlier this week that the EU had been inflexible, saying it was prepared to "find creative solutions when required". European Commission president Ursula von der Leyen said she would discuss Northern Ireland with Boris Johnson at this weekend's G7 summit.
President Joe Biden is expected to weigh in on the discussions at the summit. Biden's national security adviser told the BBC on Wednesday that the president has "deep concerns" a trade row could endanger peace in Northern Ireland.