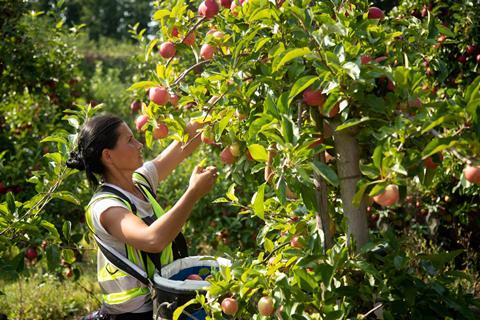 Visa permit challenges and a lack of UK-based labour have provoked fears that fruit and veg grow will be short of workers at the beginning of the season.
With harvesting set to get underway in the next two to three weeks, the sector was "very concerned", a senior industry source revealed.
Securing visa permits is understood to have proved problematic in at least one country, with the UK visa office in Bulgaria – a key country for recruiting seasonal workers – open for just three hours every fortnight.
Meanwhile, the government delay in appointing two additional operators to manage the Seasonal Agricultural Workers Scheme, which has been expanded to include 30,000 permits for the 2021 harvest, had left recruiters struggling to get labour into the country in time for next month, the source said.
These issues had combined with domestic problems, including a low level of unemployment and high competition from other industries like hospitality for the small number of workers who were available, the source warned.
"Unemployment is under 5% and [as of the latest statistics from April] we've got 11.5 million people on furlough. There is no one to recruit," they said.
"There are two routes to fix it. Either the government reviews the furlough scheme and/or it reviews the immigration policy. The labour team in Defra are very closely aligned to what's going on in the industry and they're listening, but it's a cabinet decision so it's highly political."
The comments were echoed by British Summer Fruits chair Nick Marston, who told The Grocer this week that farms were "being turned down by quite a lot of [former workers] because they've got their old jobs back".
One such farm – Fife-based berry growers Easter Grangemuir last week used its website to issue an "urgent appeal" for workers to fill picking, packing and quality control roles.
Under the UK's post-Brexit immigration system, there are three routes for foreign nationals to come to the UK for seasonal farm work – alongside the SAWS pilot, those with pre-settled or settled status can work in UK food roles.
Marston added that he felt those aiming to receive settled status would make up a smaller number of seasonal workers in future because "if you're here permanently, you'll want a full-time job".
"We will see a significant reduction of returnees on settled or pre-settled status on an annual basis. I think it's already started and it'll continue quite rapidly. We'll see an increasing need for people to come here on seasonal visas, whether that's from non-EU states like Russia or Ukraine, or from Europe."
The Home Office said it was "working with operators to resolve this issue".
A spokesman added: "Our new points-based system encourages all employers to invest in our domestic work force rather than relying on labour from abroad, through offering training, careers options, wage increases and to invest in increased automation technology.
"We will work with industry to raise awareness of career opportunities within the horticulture sector to help attract domestic workers, and we will explore the potential for automation to meet future labour demands of the sector."