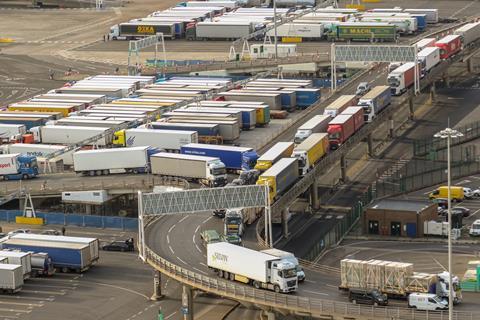 Fresh produce suppliers have registered major concerns about the preparedness of UK systems ahead of the imposition of delayed post-Brexit import checks.
With a new import declaration regime rolling out in just a matter of weeks and physical checks being introduced on 1 January, trade body the Fresh Produce Consortium suggested a lack of infrastructure and clarity from government posed a threat to fruit and veg imports this winter.
Particular concerns ranged from an absence of information on the processes, systems and criteria for checks through to the readiness of IT systems and border control posts where checks are due to take place.
FPC CEO Nigel Jenney said this apparent lack of preparedness and the short timescale before the new rules came into being was placing "more and more pressure" on businesses that were already grappling with "substantial labour shortages".
"We have members whose admin teams and beyond – [people] that would never normally work in the operational team – are working on the factory floor to support their colleagues. We don't have the resource to do everything," Jenney explained.
"The message we're receiving from government is it won't delay implementation [of import rules] any further. But they do need to provide the information the industry needs to allow it to plan. As the weeks and months continue to go by, that's still outstanding.
"We're not saying we want to go back to how it was [pre-Brexit]. What we're saying is we need an efficient solution for a highly efficient industry, and we don't have the confidence that'll be offered. There are a huge amount of outstanding questions and a huge amount of uncertainty that's of the government's own making."
Specific information the industry required included how checks on consignments – which FPC said could include anything from 200 to 400 unique products per lorryload – would be managed and how the government would ensure just in time delivery when officials could take up to four hours to inspect goods.
Trials of new import IT infrastructure which had been promised by the government had not materialised, Jenney said. He added some border control posts had not been completed, while others had "barely been started".
Meanwhile, Jenney called for the government to work with the EU on an electronic phytosanitary certificate system in a bid to avoid a scenario where the industry would have to handle an estimated 1.5 million individual documents annually.
He also urged them to reconsider the 1 January start date for physical checks as there was unlikely to be an "adequate number of officials available" to deal with snags in the system.
Defra has been approached for comment.
It comes after the UK government postponed checks on food imports from the EU in March to give businesses more time to prepare. The announcement followed warnings from industry that border infrastructure was not ready for the original July deadline.