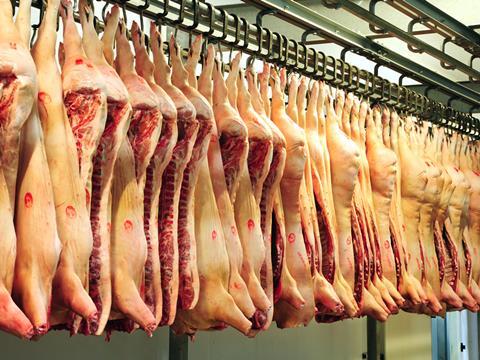 The Philippines has opened the door for British pork exporters to claw back losses caused by China banning imports from meat plants experiencing coronavirus outbreaks.
Producers are seeking a £15m bailout from the government after China suspended frozen meat imports last June in response to outbreaks in pork factories around the world. The UK has come to rely on China for buying "fifth quarter" cuts such as trotters and heads, without which profitability has suffered.
But the ravaging of the Philippines' pig herd by African swine fever has caused shortages of meat and prices to soar. Its president signed an executive order this month to reduce import barriers and open the door to increased volumes of foreign pork.
The move temporarily lowers tariffs on most pork from 30% to 5% for the first three months, and to 10% for the following nine months. The president is also reportedly looking to increase the size of its import quota to ease the tariff burden further.
The UK shipped £2.2m of pork to the Philippines in 2020, the majority of which was offal. It is a competitive market with Spain, the US, and Canada, supplying around two thirds of the country's pork imports, according to AHDB.
Bethan Wilkins, a senior analyst at AHDB, said the tariff reductions were "definitely a help" given the struggles in the British pork market. However, much will depend on "how we can capitalise on that given the market's competitive nature and its price sensitive nature".
Meanwhile, the size of the Philippines market could never fully compensate for the loss of Chinese exports, Wilkins suggested, though similar actions could also be taken by other countries affected by ASF such as Vietnam.
Lack of support
It comes as the National Pig Association has criticised some UK retailers for not offering enough support for domestic producers to find a market for their product, despite there being an abundance of supply.
According to AHDB's March pork watch survey, some 79% of the fresh pork on display in the mults was of British origin, down from 81% in January.
Sainsbury's, Morrisons, Waitrose, Aldi, Budgens, Co-op, Lidl and M&S all continued to stock 100% British fresh pork. However, Asda's British pork facings fell from 55% in January to 47%, while Tesco's proportion of fresh British pork fell from 58% to 52%. Iceland stocked just 32% British fresh pork, down from 48% in January.
The figures follow what the NPA described as a "perfect storm" of challenges to beset the UK pork sector since the end of 2020, including the China import ban on pork from Covid-hit plants, Brexit disruption and a flooding of the European market due to additional import bans on German pork by China.
As a result, Defra recently convened a roundtable event incorporating the NPA, producers, processors and retailers to search for solutions.
Until the gap started closing recently, there had been a large differential between unusually low EU pork prices and domestic pork prices for some time, which may have influenced retail buying decisions, the NPA said.
But given the pledges of support at a recent industry roundtable event, NPA CEO Zoe Davies said "we expected more" from some retailers. To see the proportion of British pork at Asda and Tesco falling "was particularly disappointing", she added.
They "said that demand for British pork was currently strong, so if processors could provide the product, they would sell it", Davies pointed out.
But only Morrisons had so far taken "clear action to support the British sector" via a price promotion, she added.
In response, an Asda spokesman said it always wanted to offer shoppers choice, while stressing it sold a "wide range of British pork products, including our own-brand sausages, which are all 100% British, plus steaks, ribs and joints".
Tesco said tt was a "proud supporter" of British agriculture, and was "working closely with our farmers to respond to significantly higher demand for pork, bacon and cooked meats". Its sales of British pork had also increased over the past year, the retailer added. Iceland declined to comment.
A follow-up retailer roundtable to discuss the pork situation, again convened by Defra, is due to take place today (22 April).