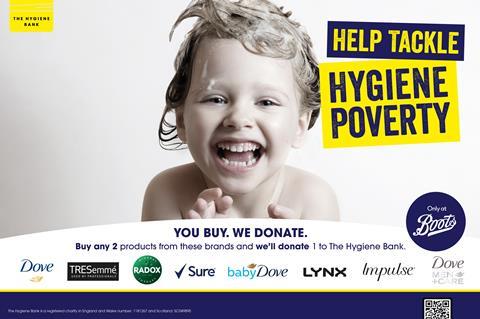 Unilever has teamed up with Boots for 'You Buy, We Donate', a campaign aimed at tackling hygiene poverty.
It will see Unilever donating one personal care product to The Hygiene Bank charity for every two bought by one shopper from Boots, either in-store or online.
The push will run from 30 June to 24 August, featuring selected lines from leading brands including Dove, Tresemmé, Radox, Sure, Lynx and Impulse.
They will be redistributed by The Hygiene Bank, a community initiative that gives free access to hygiene, personal care and household products via a network of banks across the UK.
'You Buy, We Donate' would provide "crucial donations of key hygiene products to those who are unable to access them due to poverty" Unilever said. "One in five people in the UK are held back by poverty. Many don't have access to basic hygiene at home, such as soap."
The campaign will be supported by online and social activity. Branded points of sale, including free-standing display units and gondola ends, will appear in Boots stores to drive customer visibility and raise further awareness of the campaign.
"Hygiene poverty is a significant issue in the UK and being unable to keep yourself clean can have an enormous impact on mental wellbeing," said Chris Barron, Unilever VP of beauty & personal care. "We can't solve this alone, which is why we've joined forces with Boots and The Hygiene Bank."