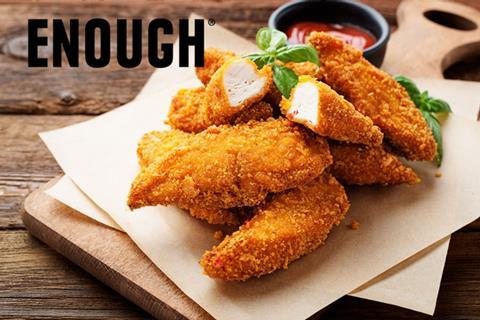 Unilever looks set to rival Quorn after announcing a partnership with plant-based food tech company Enough to bring a mycoprotein base to its The Vegetarian Butcher range.
Co-founded in Scotland by a team connected to the University of Strathclyde, Enough – formally known as 3FBio – makes its trademarked Abunda mycoprotein through what it describes as zero-waste fermentation process.
Natural fungi are fed with renewable feedstock, such as wheat and corn, to create the protein. Enough claims this process means its product uses 97% less water per tonne than beef production and emits lower CO2 emissions than rival plant-based bases like lentils (24% lower) and peas (15% lower).
The ingredient has also been claimed by Enough to carry key health attributes, including essential amino acids and a high fibre content.
Unilever said this protein would help it expand its portfolio and was a natural fit for its Netherlands-based The Vegetarian Butcher brand, which it snapped up in 2018.
"Plant-based is one of Unilever's fastest-growing segments and we're delighted to partner with Enough to develop more sustainable protein products that are delicious, nutritious, and a force for good," said Carla Hilhorst, Unilever's European VP of R&D for foods and refreshment.
"We're excited by the potential that this technology has for future innovations across our portfolio, and we can't wait to launch more plant-based foods that help people cut down on meat, without compromising on taste."
Quorn was previously the only major meat-free brand to use mycoprotein as a base for its products. Most other brands use bases such as soy – the one currently favoured by The Vegetarian Butcher – pea or wheat proteins to recreate the texture and appearance of meat.
Soy has come under major scrutiny from environmentalists and consumers in recent years, with the crop blamed for fuelling deforestation and harming soils across the world. Some meat-free brands, like Meatless Farm, have recently moved to different proteins for some of their products.
The news comes as Unilever pursues an annual global sales target of £1bn for plant-based meat and dairy alternatives within the next six years.