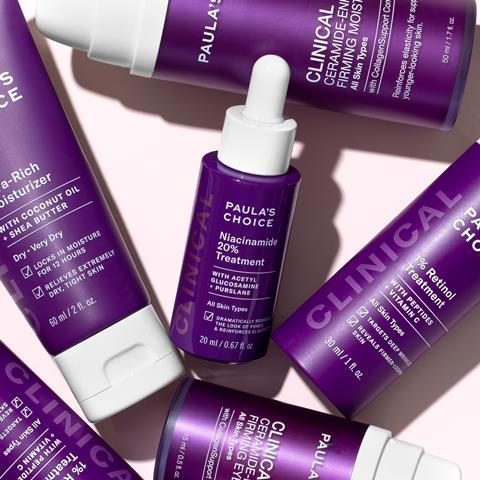 Unilever has agreed to acquire digital-led skin care brand Paula's Choice as it continues to widen its exposure to the growing DTC market.
Founded by beauty influencer Paula Begoun in 1995, the Chicago-headquartered company was an early adopter of science-backed, cruelty-free products and a direct-to-consumer ecommerce model.
Unilever signed an agreement to buy the business from private equity firm TA Associates, which has backed the brand since 2016.
Paula's Choice, which has a European head office in the Netherlands, joins Unilever's growing luxury skin care portfolio and DTC-focused businesses.
Unilever first ventured into the DTC market with the $1bn acquisition of the Dollar Shave Club in 2016 and has since added another 30-plus businesses to its stable, including snack box brand Graze.
Vasiliki Petrou, Unilever EVP and CEO Prestige, said: "Paula's Choice is a true pioneer in the digital space for beauty and has created a mission-based brand rooted in truth and transparency. We can't wait to introduce the brand and its iconic products to an even bigger audience."
Sunny Jain, Unilever beauty and personal care president, added: "Developing Unilever's portfolio in the high-growth premium skin care segment is one of our strategic priorities and I'm excited that Paula's Choice is joining us on this journey."
Paula's Choice offers its customer base a range of online content and digital tools to explore the science behind skin care, including a 'ingredient dictionary', breaking down the research behind almost 4,000 ingredients.
The brand is distributed through global DTC and select prestige retailers in North America, Europe and Asia.
Founder Paula Begoun said: "With Unilever we can build on our work and vision spanning 26 years of creating brilliant products, and by giving people the self-confidence that comes from knowing they are taking the best care of their skin possible."
Terms of the deal were not disclosed, and the transaction is expected to close in the third quarter of the year.