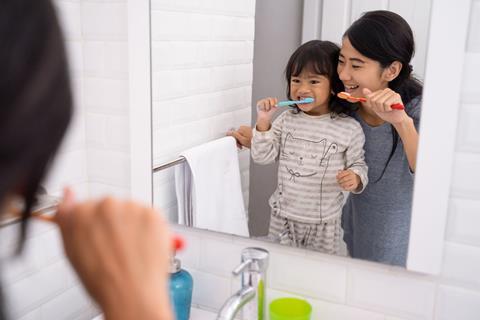 Unilever is to convert its global toothpaste portfolio entirely to recyclable tubes by 2025, it has announced.
The sustainable tubes are set to roll out later this year, following four years' development. They use a material made mostly of high-density polyethylene (HDPE) – one of the world's most widely recyclable plastics. It would be "the thinnest plastic material available on the toothpaste market at 220 microns, which will reduce the amount of plastic needed for each tube" Unilever claimed.
Currently, most toothpaste tubes are made from a mix of plastic and aluminium, which gives the packaging flexibility but also makes it difficult to recycle. This led to "billions of toothpaste tubes dumped into landfills every year" said the supplier.
To develop the new packaging, Unilever's oral care brands, which include Signal and Pepsodent, partnered with several international packaging manufacturers, including EPL, Amcor, Huhtamaki and Dai Nippon Indonesia.
"In addition, formulation and flavour experts at Unilever were essential throughout the testing process to ensure the new tubes continued to protect the quality and taste of the product" the London-headquartered company added.
It intends to make its innovation available for other companies to adopt "to encourage wider industry change".
Recyclable tubes marked "a key milestone in our packaging journey and, more significantly, they have the potential to transform the whole oral care industry" said Babu Cherian, Unilever R&D oral care packaging director.
"Together with our manufacturing partners, we're making the new design available to any producers interested in adopting the new material, with the ambition to accelerate industry change."
Unilever's eco-friendlier tubes will be first available in two of its biggest oral care markets: France and India.
The company is also working with global recycling organisations to help ensure the new tubes are collected and recycled. And brands including Signal intend to introduce more post-consumer recycled plastic into their recyclable tubes by 2022 in France and other European markets.
The launch comes after GSK Consumer Healthcare last week announced it had partnered with Albéa and EPL to launch fully recyclable toothpaste tubes across its oral health brands, including Sensodyne and Aquafresh.
The partnership with Albéa will see GSK switch its toothpaste tubes from aluminium barrier laminates to the patented and fully recyclable Greenleaf laminate. It will first be available across Sensodyne Pronamel tubes across Europe from July.
The innovation would "be bolstered by a second partnership with EPL Global to produce tubes in Platina laminate" GSK said.
Both laminates have passed recycling-readiness tests set by the US Association of Plastic Recyclers and by Europe's RecyClass, meaning the tubes will be recyclable and compatible with existing recycling processes. GSK expects to produce over a billion recyclable toothpaste tubes per year by 2025.
"We are fighting every day to help eradicate preventable oral health problems and to provide people with better, more sustainable oral care solutions that don't compromise on quality," said Sarah McDonald, GSK Consumer Healthcare VP for sustainability.
"We have made the commitment that 100% of our product packaging will be recyclable or reusable, where quality and safety permits, by 2025," she added. The new toothpaste tubes were "just one part of our ongoing sustainability journey, in which we are working to address the environmental and societal barriers to everyday health".
The announcements from GSK and Unilever come about 16 months after Colgate-Palmolive unveiled Smile for Good toothpaste in "the first ever" recyclable tube. It is made from a combination of different grades and thicknesses of HDPE laminate.