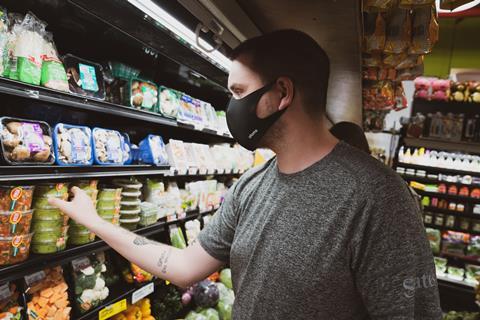 Shopworkers union Usdaw is warning the government against ending Covid safety rules in stores.
With PM Boris Johnson expected this afternoon to announce an end to the one-metre rule and face covering requirement from 19 July, Usdaw general secretary Paddy Lillis has said shopworkers remain "deeply worried about catching Covid-19".
"This is not the right time to water down safety in stores and the government should not be removing the requirements of face coverings and distancing in busy public areas like shops," said Lillis.
"Many retail workers are at a greater risk of catching the virus and bringing it home to their families. Supermarket workers and delivery drivers have worked throughout the pandemic to keep the country supplied with essentials. These key workers must be valued, respected and protected," Lillis added.
In a press conference today, Johnson is also expected to say the public must "begin to learn to live with this virus".
"Thanks to the successful rollout of our vaccination programme, we are progressing cautiously through our roadmap," said Johnson ahead of the conference. "Today we will set out how we can restore people's freedoms when we reach step four.
"But I must stress the pandemic is not over and cases will continue to rise over the coming weeks.
"As we begin to learn to live with this virus, we must all continue to carefully manage the risks from Covid and exercise judgement when going about our lives."
Lillis said relying on the public exercising personal responsibility "ignores the reality that public-facing workers have no option but to interact with large numbers of people as a part of their job".
"The main purpose of face coverings is to protect others and the government must send out a clear message on this.
"Usdaw is urging the shopping public to continue to wear face coverings, along with necessary hand sanitisation and maintaining social distancing to help make shops safer and limit the spread of Covid-19. We also continue to call on employers to maintain appropriate safety measures and ensure they are being followed consistently, in every store."
The Chartered Institute of Environmental Health said any decision to move social distancing and the wearing of face coverings from a legal requirement to guidance would make it impossible to enforce the measures in public places.
"With enforcement already difficult whilst social distancing and mask-wearing is a legal requirement, any move to make these things a matter of guidance will make it impossible for our members to enforce them," said CIEH Northern Ireland director Gary McFarlane.
"If the UK Government wants social distancing to continue it will have to legislate for it and make it black and white."