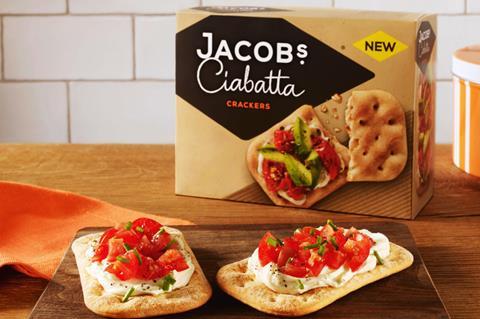 Irish ambient food giant Valeo has been snapped up by global private equity firm Bain Capital for an undisclosed amount.
Current PE owner CapVest, which also sold Eight Fifty Food Group to Sofina last month, hired bankers at Goldman Sachs earlier this year to run an auction for Valeo, with a reported price tag of around €1.7bn (£1.5bn).
Established in 2010 when it acquired Irish ambient food businesses Batchelors and Origin Foods, Valeo today owns brands such as Jacob's, Rowse, Odlums, Barratt, Balconi and Kettle, thanks to a string of high-profile acquisitions.
CapVest and the Valeo management team, led by Seamus Kearney, have transformed the Dublin-headquartered group from an Irish-only business with sales of less than €200m (£172.7m) to a global supplier with more than €1.1bn (£950m) in revenues in the year to end of March 2021.
Bain Capital said it intended to continue to grow Valeo with further acquisitions.
Nigel Walder, an MD at Bain Capital, added: "Valeo Foods has been developed into a key player in the European food industry by a talented and ambitious team.
"We believe Valeo has further potential to grow significantly, both organically and through acquisitions, and look forward to partnering with Seamus and his team to accelerate that growth trajectory and further consolidate the company's position as a leading international food business."
Kearney will continue to lead the business with the existing management team.
He said the deal was "a very positive reflection" of the quality of the business and its people.
"It is also testament to the passion and commitment CapVest, our management team and all of our colleagues have shown in continuously delivering best-in-class food products to our customers and consumers across our 106 markets," he added.
"Bain Capital's deep knowledge and heritage in innovation and investment in the food and grocery sectors means this is great news for our business and our people. We are very excited to work alongside the Bain Capital team as we continue our journey and pursue our ambitious plans for further growth in the future."
Valeo Foods employs more than 4,000 staff across 24 factories in Ireland, UK, Italy, the Czech Republic, the Netherlands and Germany.
It has acquired 16 businesses since forming, including, most recently, UK-based It's All Good, an own-label snack manufacturer and owner of premium tortilla chips brand Manomasa, at the end of 2020, and German marzipan and chocolate maker Schluckwerder at the start of this year.
CapVest partner Jason Rodrigues said: "The sale of Valeo Foods represents the culmination of our strategy to build a major international food business through a combination of strategic investment, innovation and complementary acquisitions of businesses and brands in categories with stable demand characteristics, where we have applied our team's deep experience to drive sustainable growth.
"It has been a great partnership with an exceptional leadership team led by Seamus Kearney. Together they have created a high-performing and growing leader in ambient foods. We look forward to seeing Valeo Foods continue to flourish under Bain Capital's ownership."
CapVest and Valeo Foods' management received financial advice from Goldman Sachs, legal advice from Willkie Farr & Gallagher, financial due diligence services from KPMG, commercial due diligence services from EY-Parthenon, and tax due diligence and structuring services from PwC.
Bain Capital Private Equity received financial advice from Credit Suisse and Houlihan Lokey, legal advice from Weil Gotshal & Manges, financial due diligence, tax and structuring services from PwC, commercial and strategy due diligence services from OC&C, and operations and IT due diligence services from Alix Partners.
The transaction is subject to approval from regulatory authorities.