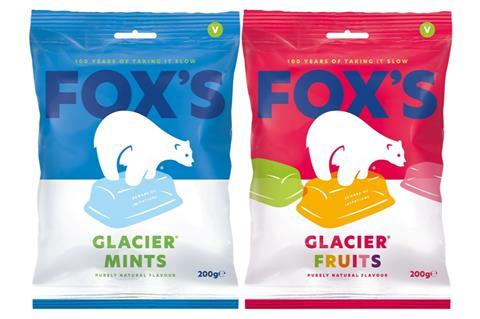 Valeo Snack Foods is embarking on a major relaunch for its Fox's Glacier brand.
It has unveiled a new look for Fox's Glacier, as well as plans for a swathe of NPD and supporting marketing, with an eye to luring in more "modern" shoppers.
The new packs – which will roll out by the end of May – feature an updated version of the brand's 'Peppy the polar bear' character, as well as "heritage" design elements such as Fox's blue branding and an 'accept no imitations' strapline. They will also play up the fact the brand is suitable for vegans.
Valeo said this would "remind customers to look for the very best".
The brand has also slashed roughly 10% of the plastic from its packs with the rebrand.
The relaunch will be backed by a marketing push centred around the sweets as being "satisfyingly long lasting".
Valeo senior brand manager Alice Thorpe said investmesnt into the brand would reach "seven figures" over the course of the year.
Fox's "deserves its iconic reputation and this investment is about bringing it front of mind for today" she said, adding Valeo had plans for an "exciting programme of NPD" to follow.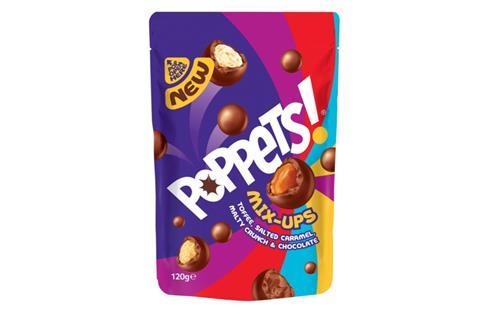 Fellow Valeo brand Poppets will also get a redesign – although Valeo stressed the brand's sales were currently in growth year on year.
The Poppets range will roll out in new single-serve cardboard cartons and sharing pouches, with "a modern feel" and a "bold look" to "ensure shelf standout".
A new flavour – Salted Caramel – will also be added to the range, as will NPD called Mix Ups, which combine Toffee, Crunchy Maltballs, Chocolate Balls and Salted Caramel. They will roll out from 21 May.
The news comes as Valeo was snapped up by PE firm Bain Capital this week for an undisclosed sum.
Prior to the deal it was reported the business was hoping to sell for £1.5bn, after years of rising sales.