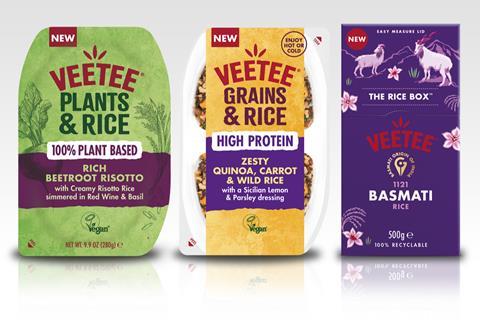 VeeTee is hoping to "unleash" rice with a swathe of NPD.
The brand has created a mass of new lines under an initiative it has dubbed 'Rice Unleashed' in a bid to "bring functionality and new shoppers to the category".
Firstly, it has unveiled a six-strong range of fully recyclable rice boxes showcasing different grains, which the brand is dubbing "the first true dry rice innovation in a number of years". The boxes feature a detachable lid that allows shoppers to measure out a 45g portion accurately (rsp: tbc).
The range comprises Basmati, Thai Jasmine, Paella, Wholegrain Basmati, Long Grain and Risotto SKUs.
"[Shoppers] often find they waste a lot of dry rice before it's cooked," said the brand's marketing director James Brett. "Single-use bags tear, they topple over – everyone has a horror story about cooking rice. Then they'll complain that they can never measure the right amount."
The launch will be backed by a PR and social media campaign called 'That's Box Clever'.
It has also unveiled a range of 'Plants & Rice' microwavable ready meals in four flavours – Rich Beetroot Risotto, Smokey Chipotle Chilli Non-Carne, Spiced Chickpea & Sweet Potato and Chargrilled Vegetable & Squash Paella (rsp: £1.99/280g).
The NPD was "all about a different meal occasion being brought into the rice aisle" and would tap the plant-based trend, said Brett.
Thirdly, it has created a Grains & Rice range billed as offering high protein at-home or on-the-go lunches. The range comprises Sumptous 7 Grain and Beetroot Salad, Zesty Quinoa, Carrot & Wild Rice, Juicy Pumpkin Seeds, Freekeh & Rice, and Zingy Edamame, Millet & Beluga Lentil flavours packed in the brand's twin pots for portion control (£1.99/2x130g).
It has also launched a trio of nutritionally fortified 'Heat & Eat' rice trays touted as being high in vitamins, fibre and iron. Brett said the aim of the NPD was to "bring a whole new generation and demographic of shoppers into rice" (rsp: TBC).
"Walk down the rice aisle and all you see is the opportunity to do something better," he said. "There is no excitement or experience when we have these incredible grains coming from all over the world and no one's talking about it.
"We have a category close to £600m and no one is bringing innovation, just flavour variants. Huge respect to [rivals], they've carved out the space and do some great blocking.
"But if all we see are flavour variants we're not really driving the category forward. We are trying to premiumise it and bring in some functionality and new shoppers."
The brand is poised to follow up these launches with a set of meal kits later in the year, offering recipes such as Nasi Goreng, Jerk Chicken and Rogan Josh.