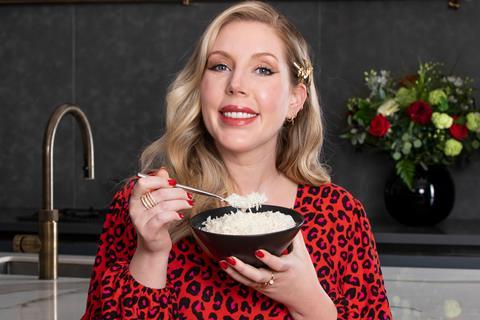 Veetee Rice has kicked off 'Up Your Fluff Game', a push in partnership with comedian and actor Katherine Ryan.
Designed to promote Veetee's four-strong range of microwavable rice trays, the campaign was "focused on kitchen hacks" the brand said.
It comes after a poll commissioned by the brand found "a growing number of time-strapped Brits are turning to 'life hacks' – clever tips or shortcuts that make little tasks easier". Of the 1,002 consumers surveyed, 38% praised 'hacks' for helping them save time, 34% found them to be a way to save money, and 28% simply enjoyed them.
'Up Your Fluff Game' will run across social media throughout July. A series of videos hosted by Ryan will see her ridicule unusual 'kitchen hacks' before revealing her favourite 'hack' is Veetee rice trays. The line-up underwent a makeover earlier this year across its Basmati, Long Grain, Pilau and Thai Jasmine variants.
UK consumers "love a life hack" said James Brett, director of consumer & customer marketing at Veetee Rice. "Despite being a nation of rice lovers, it was surprising to see over two thirds of respondents said they didn't know how to cook perfect fluffy rice. That's where we offer the number one life hack everyone needs."
'Up Your Fluff Game' comes after surging demand for rice saw the category add £60m in UK grocery (excluding discounters), with volumes increasing by 10.8% [Nielsen 52 w/e 5 September 2020]. Veetee grew its value by £2.4m (43.2%) to £8m, as locked-down Brits cooked more at home.