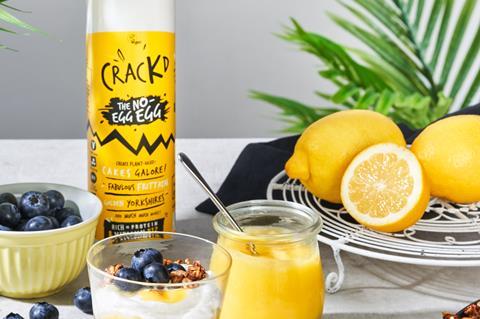 Plant-based liquid egg substitute Crackd is to make its big four debut and launch its first TV advertising campaign after just six months on the market.
The brand, which launched in October 2020, will roll into Morrisons next week ahead of its first TV campaign from mid-June (rsp: £3.99/490g).
The campaign comprises three ads, including one with Great British Menu chef Ruth Hansom, showcasing "bespoke vegan recipes".
Another will feature prominent vegan Instagrammer Jenna Betts, who runs the account @DirtyVegazine, while the third will feature South London chefs Nish and Harshil Modasia, who run vegan food business En Root.
The brand – which is run as a joint venture between food development consultants Bingham & Jones and Noble Foods owner Sarah Dean – did not do any external fundraising to support the TV advertising.
Crackd has steadily grown its distribution in the UK since November, launching into the likes of M&S, Selfridges, Whole Foods Market and specialist retailers such as The Vegan Kind. It is also due to roll into Amazon shortly.
It was "widely reported that all the majors have been increasing their ranges on plantbased products over the past few years", said the brand's GM Rik Roberts.
However he said the opportunity for plant-based eggs was "massive" and had not yet been capitalised on fully. "Eggs are used in so many foods, but if you want to adopt a more plant-based diet there are no products in any of their ranges that will do what Crackd can do."
The brand was "here for those that can't, don't or won't eat eggs and [we] believe that consumers deserve to have a choice in this category," he added.
It is understood international expansion will follow over the coming months.
The egg-like liquid is made with pea protein, which is cold-pressed to retain flavour and nutrients, and is billed as being high in vitamin B12. As well as being suited for baking, it can be fried on its own to create sweet and savoury dishes such as quiches, omelettes and fritatas.