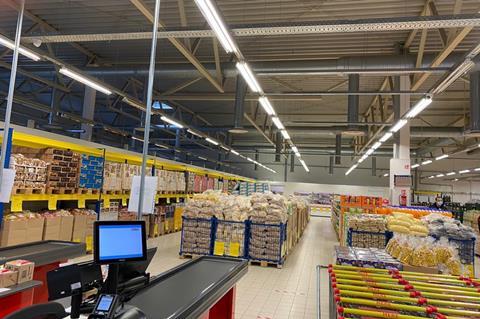 New discounter Mere has "very few pockets of opportunity" for opening stores in the UK without being on the doorstep of an existing discounter, according to analysis.
However, there are over 250 locations suitable for the Russian retailer if it doesn't mind being near a Lidl or an Aldi.
As recently revealed by The Grocer, Mere plans to opens its first four UK stores this year, with a longer-term ambition of 300 within a decade.
The business, which already has a claimed 3,200 stores globally, has an unusual operating model that sees suppliers delivering directly to stores. It claims this will help it undercut Aldi and Lidl by up to 30%.
"The discount market is well established within the UK with 76% of the population already within one mile of an Aldi or Lidl and with this figure rising to 90% for price-led convenience shoppers within the UK," said CACI senior location planning consultant Charlotte King.
It left "very few pockets of opportunity available for expansion" she said.
However, assuming Mere will not rule out being near a rival, "CACI have identified an initial 160 potential locations for Mere expansion" across the UK.
"In a lot of the cases those locations are already served by Aldi and Lidl," added King. "There are also further 100 secondary opportunity locations available, taking potential Mere store network in UK to an estimated 260 locations."
CACI conducted the analysis by examining the locations of the four UK stores Mere is set to open this year, in Castleford, Preston, Mold and Caldicot. It also looked at criteria set out by Mere for landlords, including a store footprint of 10,000 sq ft and a local population of 60,000 or more.
"All four sites cover a broad and varied demographic, so this suggests Mere are looking to test their approach in different areas with different types of consumer groups, to see who their more price-focused model resonates with best," said King. "The Castleford and Preston sites are both dominated by families on a budget and price-led convenience.
"For example, within 1.5 miles of Preston, 65% of the households constitute these two shopper groups, making up over 13,000 potential households. In contrast, Mold and Caldicot have wealthier catchments with a focus on rural retirees and wealthier families, but with smaller population figures in the vicinity due to their more rural nature."
Mere's first UK store is set to open in Preston next month.