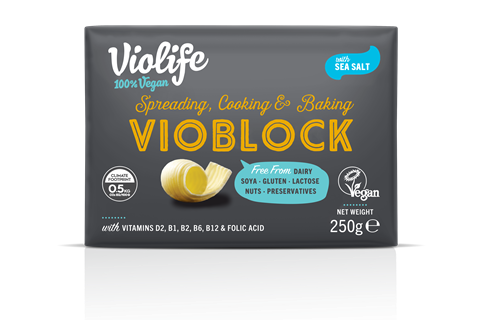 Dairy alternative brand Violife has entered the butters and spreads market for the first time with a vegan block alternative.
Launched into Asda stores nationwide yesterday (3 August), the coconut, sunflower and rapeseed oils-based Vioblock has been targeted at the rapidly growing plant-based segment within the wider dairy category (rsp: £2/250g).
Violife UK & Ireland marketing manager Bianca Harris said the launch had been prompted by the rapid increase in sales seen in dairy alts over the past year.
She pointed to Kantar data showing dairy alts out-grew dairy in terms of value sales by a ratio of almost three to one – albeit from a smaller base [52 w/e 13 Jun 2021].
"With dairy alts out-growing the dairy sector, yet representing only 5% of the total dairy sector, there is sizable headroom for growth and expansion for Violife beyond the dairy alternative to cheese category," Harris explained.
"Launching Vioblock is a milestone moment for Violife as we look to expand our product offering further. [It] stays true to the core values of Violife, in that it is suitable for everyone to enjoy regardless of their dietary requirements and performs just as you would expect."
As well as being dairy-free, the block was also said by Violife to be free from soya, gluten, lactose, nuts and preservatives. It was also slated to contain vitamins B1, B2, B6, B12 and folic acid and boasted a "fresh and familiar buttery flavour", the brand said.
It comes after Violife's Greek owner Arivia was scooped up by plant-based spreads giant Upfield in a €500m deal last year.
At the time of the deal, Upfield Group CEO David Haines said the acquisition would "continue to drive exciting growth and innovation in the plant-based food sector", suggesting Violife's latest move may have been prompted by its new parent, whose other brands include Flora and I Can't Believe It's Not Butter.