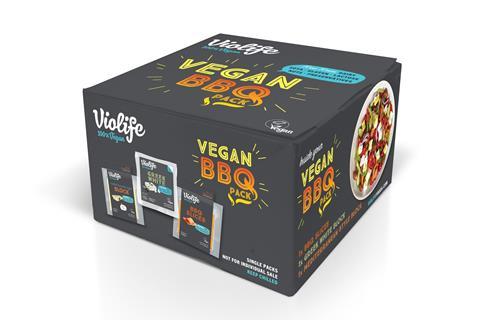 Dairy alternatives brand Violife has launched a vegan BBQ Pack in a bid to capitalise on what it hopes will be a big summer for barbecues.
Set to include Violife's Greek White and Mediterranean Style Block, the kit will also be the exclusive host of a new BBQ Slices product that promises a sweet and smoky flavour with a touch of paprika and has been designed to be paired with vegan burgers.
The box has gone on sale in Sainsbury's stores across the country (rsp: £6).
This launch has been accompanied by a marketing drive – launched yesterday – that has taken in TV channels including Channel 4 and Sky as well as social media.
The TV ad was said by Violife to tell the story of friends and family gathered together at a summer barbecue and is set to challenge the notion that this type of occasion cannot be vegan. It will tie in with what the brand expects to be a big summer for such gatherings.
"With socialising restrictions lifting across the country and warmer weather well on its way, this summer is set to be a big one for barbecues," said Violife country manager for UK & Ireland Simon Orchard.
"We know it's not always easy for vegans, vegetarians and flexitarians at barbecues with their traditional focus upon meat and dairy products, which is why we're delighted to share the news of Violife's breakthrough Vegan BBQ Box providing a dairy-free solution that is suitable for everyone to enjoy."
In addition to its NPD launch and advertising push, the brand has also updated its strapline to replace 'but' with 'and', so it now reads as, 'Just the way you like it, and vegan'. Violife said this change had been made to reflect the increasing popularity of vegan food and reinforce its inclusive and supportive ethos.
It comes 18 months after Violife's Greek owner Arivia was bought by Upfield in a deal said to be worth around €500m. Upfield said at the time the deal would help drive plant-based growth and innovation.