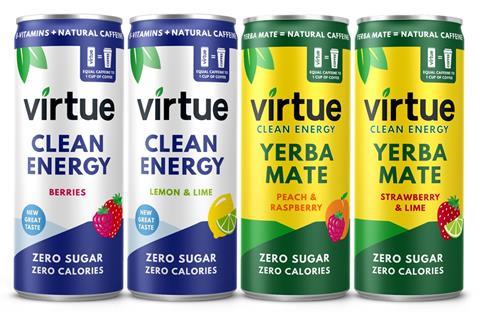 Natural energy drink brand Virtue Drinks has netted a six-figure investment from former Manchester United footballer Chris Smalling ahead of a £1m fundraising drive.
The London-headquartered business will use the cash from the Roma and England international to drive retail distribution in the UK and expand in international markets.
Virtue, founded by Rahi Daneshmand in 2016, is currently stocked by Sainsbury's, Ocado, Whole Foods, Holland & Barrett and Planet Organic, with upcoming launches in Irish retailer Dunnes and Spar.
It's the sixth investment Smalling has made in the past year, with four in the food and drink space and a focus on sustainable and ethical brands, such as Allplants, This, Livia's and plant-based dog food start-up The Pack.
"Virtue has shaken up the industry and made a brilliant product that changes the game," he said. "I'm excited to be part of the journey. Why would you drink unhealthy energy drinks when Virtue exists?"
Virtue has also kicked off a £1m private funding round this month, raising further investment from existing shareholders and new angel backers to help increase brand awareness and grow the sales and marketing team. The round is expected to close before the end of the first quarter.
Daneshmand added: "We have very high aspirations, with plans to bring Virtue to every store where you might find traditional energy drink brands.
"Each can of Virtue gives customers the same amount of natural caffeine as the leading energy drink or coffee, without any sacrifice on taste and none of the artificial chemicals."
Virtue produces "clean" energy drinks, made from all-natural ingredients, with zero sugar or calories. Two ranges are available globally – Virtue Clean Energy and Virtue Yerba Mate – exporting to retailers in 30 countries.
The business works with a number of charity partners, with each can sold contributing to the conservation of rainforests.